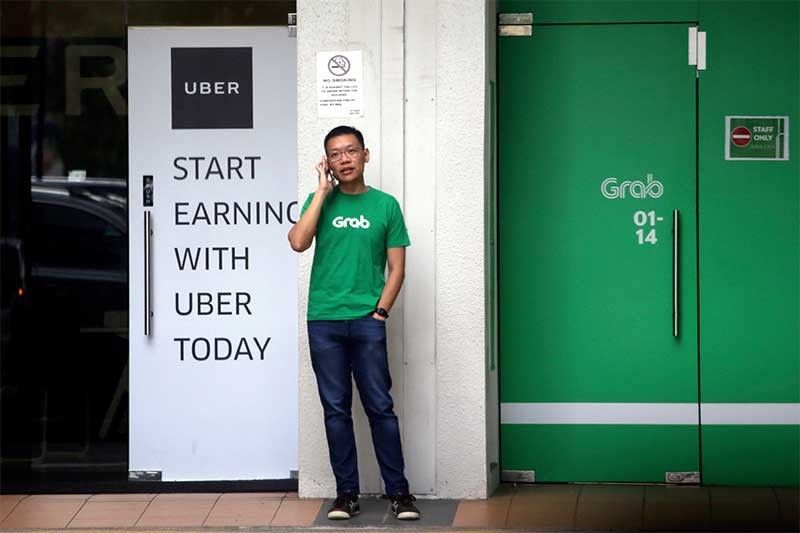 A man wearing a t-shirt with the Grab branding on it talks on his cellphone between Grab and Uber offices during lunch hour Monday, March 26, 2018, in Singapore. Grab, a fast growing Southeast Asian ridesharing, food delivery and financial services business, said that Uber will take a 27.5 percent stake in it and a seat on its board as part of the deal.
AP/Wong Maye-E)
LTFRB urged to fast-track entry of new ride-hailing services
(Philstar.com) - April 4, 2018 - 9:55pm
MANILA, Philippines — As Uber exits the Philippines next week, Senate President Aquilino "Koko" Pimentel III called on the LTFRB to fast-track the entry of other transport network vehicle services (TNVS) to allay fears of commuters.
The operations of Uber in the Philippines will only be until April 8 as Grab has acquired the Southeast Asia operations of the San Francisco-based ride-hailing service.
Pimentel said that the LTFRB's announcement of three new ride-sharing companies that want to enter the country can be considered good news.
"There is a legitimate fear among regular TNVS users that Grab's acquisition of Uber's operations in the country will lead to higher fares, which is the natural consequence when a player monopolizes a particular industry," Pimentel said in a statement released Wednesday.
It would be incumbent for the LTFRB to work overtime to process the pending applications of new ride-sharing companies so as to ensure the Grab will not monopolize the market, the Senate leader said.
Pimentel also said that the regulatory board should also weigh the feedback of TNVS users and act on their complaints in processing the entry of of new players.
He suggested that the LTFRB could monitor the prices and the performance of Grab after the exit of Uber through social media.
"But the real test will be how they respond to the feedback from commuters. They should be ready to act on complaints to discourage Grab and its drivers from violating TNVS rules and regulations," he said.
There should be a balance between encouraging the entry of new TNVS providers and the need for them to comply with the country's guidelines, he added.
"We need real competition, not potential competition. As long as riders have zero options, they will be vulnerable to overpricing and poor service — and this is where the LTFRB must come in," Pimentel said.
Meanwhile, Grab Philippines has vowed to cooperate with the Philippine Competition Commission as it looks into the Uber acquisition deal.
The anti-monopoly agency said that Grab's acquisition of Uber would have a "far-reaching impact" on the riding public and transportation services.
"A merger or acquisition review using competition lens will determine whether the merger of two players in the ride-sharing market will substantially lessen competition," the commission said in a statement. — Patricia Lourdes Viray