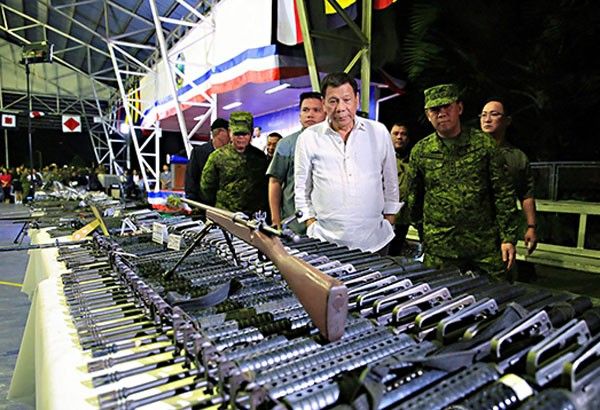 President Rodrigo Duterte inspects guns surrendered by former New People's Army rebels.
File photo
Duterte tells communists: I want to talk peace with you
MANILA, Philippines — For President Rodrigo Duterte, there's no such thing as forever, not even in the armed struggle.
After labeling the communists as terrorists, President Rodrigo Duterte is now open to resuming talks with the rebels, saying he no longer wants to kill fellow Filipinos who are fighting for their principles.
Duterte said it's about time that the government and the communists make peace, noting that they have been fighting for 50 years.
"You know, we are not enemies. Even if I want to fight, my heart tells me that I am killing my fellow Filipinos. But the problem is you are doing the same. I want to talk peace with you," the president said during an agriculture event on Tuesday in Bongabong, Oriental Mindoro.
Duterte said he is ready to reach a compromise with the communists, whom he said helped him win the 2016 presidential race.
"You are ready to die for your principles. The problem is the two of us are doing the same. We are also ready to die for what we think is right," Duterte said.
A Justice department petition to label more than 600 suspected communists as terrorists is still pending at a Manila court.
"And so if we can have a middle ground, I'm not closing my doors because hindi totoo 'yang forever (there's no such thing as forever). Even among lovers, once they hold each other's hands, [the argument is] gone," he added.
Last November, Duterte terminated peace talks with the communists, accusing them of pushing for a coalition government, a power-sharing setup that he said would go against the 1987 Constitution.
He also assailed the rebels for the NPA attacks against government forces and their collection of revolutionary taxes.
Duterte has also classified the Communist Party of the Philippines and its armed wing the New People's Army as "terrorist organizations" and blamed them for the Philippines' underdevelopment.
In February, the president said he would pay a bounty of P20,000 for every rebel killed (https://www.philstar.com/headlines/2018/02/16/1788263/dutertes-bounty-offer-encourages-war-crimes). He also said female guerrillas should be shot in their vaginas, a remark that he said was not made in jest.
'Ceasefire before talks'
But Duterte change tone Tuesday, saying he would rather spend state funds on hospitals and bridges rather than on conflicts with the communists.
Duterte said the two sides should forge a ceasefire agreement before starting the talks. He also urged the NPA to stop collecting the so-called revolutionary taxes from businesses.
"If you really want an honest-to-goodness talks, you stop immediately, you and I, let's have a ceasefire. Not a single shot should be fired, not even a firecracker and I would be happy," the president said.
"If you want peace, you have to invest money in peace...Stop the revolutionary government, do not burn equipment in the name of taxation because the businesses would suffer," he added.
The president reiterated that he is not open to a coalition government, saying the sovereign powers of the state should be exercised by leaders elected by the people.
Duterte said he is ready to shoulder the expenses of communists who will join the peace negotiations.
"I understand that you have to have money to proceed to where you would like to be. I am ready to subsidize the peace process. I will pay for your hotel, I will pay for your expenses," he added.