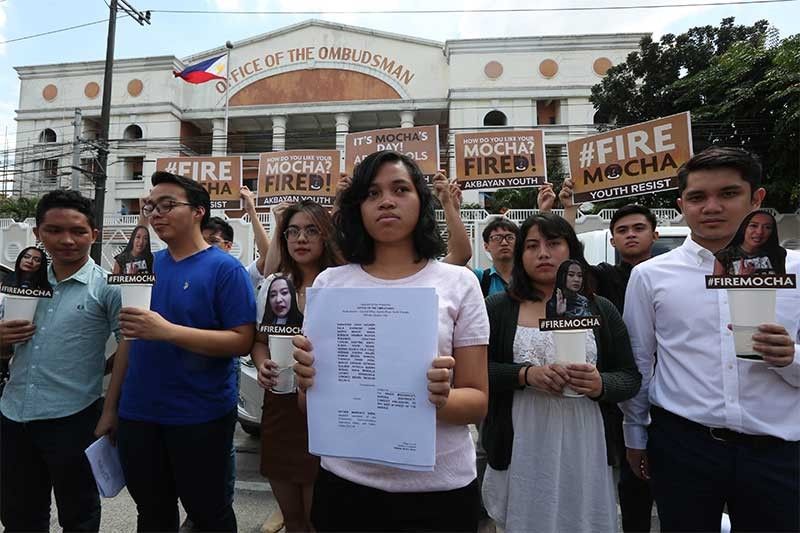 Akbayan Youth accuses PCOO Assistant Secretary Mocha Uson of spreading "numerous and deliberate misinformation."
Philstar.com/Felicer Santos
Mocha faces raps for spreading 'fake news'
MANILA, Philippines — Presidential Communications Operations Office Assistant Secretary Mocha Uson faces a new administrative complaint as a youth group accuses her of spreading fake news.
Akbayan Youth is set to file charges of grave misconduct, serious dishonesty and conduct prejudicial to the best interest of the service.
The youth group noted that despite being a government official, Uson maintains a public blog and has a radio/television segment with dzBB.
"The online and public persona of public official Uson is the source of numerous and deliberate misinformation," the youth group said.
Uson's online persona is contrary to her mandate as a PCOO official to ensure transparency and full and appropriate disclosure of the programs of the Office of the President and the executive branch.
"Uson's continuous act of making public statements heard, witnessed, watched, and accessed by Filipinos, are inconsistent with the PCOO's functions," Akbayan Youth said.
Earlier this year, Uson drew flak for mistakenly saying that Mt. Mayon was in Naga, instead of Albay province.
The PCOO official and pro-Duterte blogger has since apologized for her mistake and corrected the location of the volcano.
"'Yang pagkakamali ko na nasabi ko na ang bulkang Mayon ay nasa Naga. Okay, pasensya na po, inaamin ko po na nagkamali ako. Okay, pasensya na po," Uson said in a video posted on her Facebook page.
In May 2017, Uson shared an unverified photo of supposed Filipino soldiers kneeling in prayer and asked for prayers for government troops as they fought against local terrorists in Marawi City.
Those who were in the photo that she shared were not Filipino soldiers as it was discovered later on that the image was taken in Honduras.
Sen. Grace Poe earlier suggested that Uson's position as a Presidential Communications secretary and as a blogger might be overlapping with the law.
During a Senate hearing on the proliferation of fake news in January, Poe cited Section 4(b) of the Code of Conduct and Ethical Standards for Public Officials and Employees, which states that public officials and employees during incumbency shall not "engage in the private practice of their profession unless authorized by the Constitution or law, provided, that such practice will not conflict or tend to conflict with their legal functions."
Poe, chair of the Senate public information and mass media committee, added that Uson's blog is a conflict of interest with her position in the PCOO. — with a report from Elizabeth Marcelo