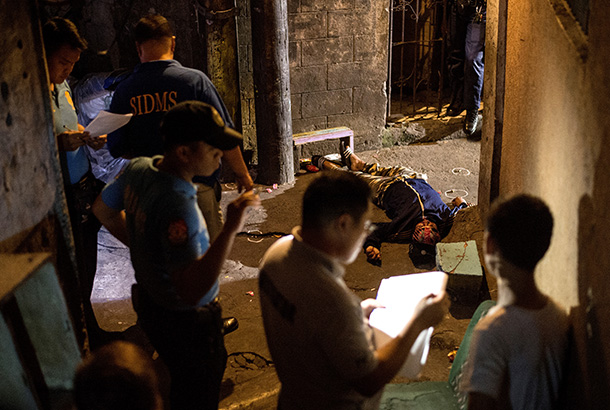 An internation group urged countries with political and economic ties to the Philippines to ask it to restore the rule of law and stop widespread extrajudicial killings. Noel Celis/AFP, File
International group: Nations with ties to Phl should urge Manila to follow rule of law
MANILA, Philippines — States with strong economic and political ties to the Philippines should urge the country to restore the rule of law and stop widespread extrajudicial killings, according to a group that advocates the protection of civilian populations from the worst atrocities.
President Rodrigo Duterte recently announced Manila's intention to withdraw its ratification of the Rome Statute, the treaty that established the International Criminal Court.
The move came after Fatou Bensouda, a prosecutor of the ICC, announced that she was launching a preliminary examination into allegations of extrajudicial killings in the Philippines in the course of its crackdown on illegal drugs.
A preliminary examination is a process of determining whether a formal ICC investigation should be conducted.
The Global Center for the Responsibility to Protect said that while the Philippines had the authority to maintain law and order in its territory, it should do so with respect to International Human Rights Law.
"States with strong economic and political ties to the Philippines must urge the government to restore the rule of law and immediately halt widespread extrajudicial killings," the group said in its atrocity alert.
Malacañang said that the decision was effective immediately and the ICC should not expect cooperation from the Philippine government.
However, the ICC said that despite the withdrawal, which should take effect one year after the formal notification of the United Nations, a party should still cooperate with proceedings launched before the date on which it was approved.
The call of the Global Center for the Responsibility to Protect is not the first time that countries with economic ties to the Philippines have been urged to reconsider their financial relationship following the mounting number of deaths in Duterte's war on drugs.
In an editorial last year, the New York Times called on nations to consider imposing tariffs on Philippine goods after the European Union floated the proposal.
The publication also urged the United Nations Human Rights Council to launch a thorough, independent probe into the killings under the chief executive's watch.
In a separate report, the Global Center for Responsibility also accused Duterte of promoting an atmosphere of impunity for murder and claimed that Filipinos were at risk of extrajudicial killings that could amount to crimes against humanity.
"The government of the Philippines is failing to uphold its Responsibility to Protect all Filipinos from crimes against humanity, including those accused of drug offenses," it said.