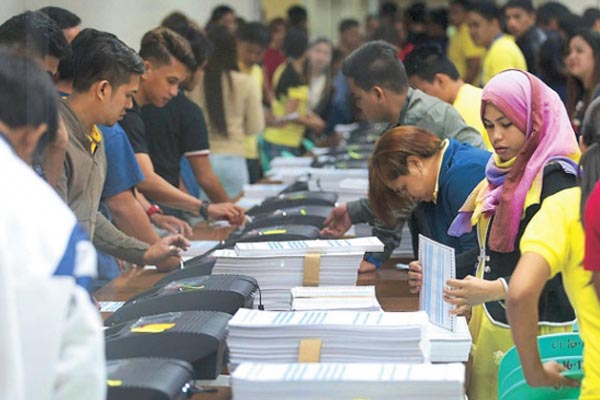 The bill may not have support in the Senate, which only has days to pass a counterpart measure before Congress goes on recess. File
House passes bill to postpone barangay, SK elections
MANILA, Philippines — The House of Representatives on Monday approved the bill postponing the synchronized barangay and Sangguniang Kabataan polls slated on May 14.
Solons on Monday voted 164-27 to approve House Bill 7378 on third and final reading.
Under the bill, the barangay and SK elections will be moved to the second Monday of October 2018.
The village and youth elections originally scheduled in October 2016 were canceled and rescheduled for October 2017. These were also postponed and then rescheduled to May this year amid concerns that candidates financed by drug money will win the polls.
The Senate must pass a counterpart proposal for the bill to be sent to President Rodrigo Duterte for his signature.
But the proposed postponement might not get a nod in the upper chamber as there are only three session days left before Congress goes on recess until May 13.
Senate President Aquilino Pimentel III, also president of the administration PDP-Laban party, has said there is little chance for the bill to hurdle the Senate in that time even if senators are inclined to support poll postponement.
"Zero are in favor of the postponement, based on my informal survey,"
Pimentel said
.
Last week, Senate President Pro Tempore Ralph Recto criticized some House members for attempting to delay the polls, saying everyone is ready except for them.
Recto said that if the elections scheduled in May would be postponed anew, it will be "strike three against grassroots democracy."
"The power to hold office is founded on the principle that rulers must have the explicit mandate from the people and when it expires, must be renewed by the people through an election," he said.
Senate Minority Leader Franklin Drilon said last month that the proposed postponement may be an attempt to rush a plebiscite for a new constitution and to allow third-term members of the House of Representatives to stay in power. Under the 1987 Constitution, House members are only allowed three consecutive three-year terms.