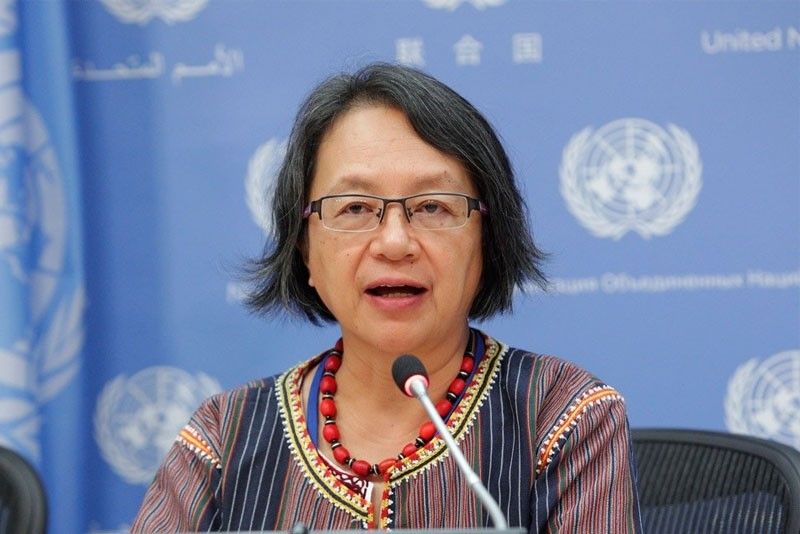 Foreign Affairs Secretary Alan Peter Cayetano said over the weekend that Tauli-Corpuz was included in the list not because of her position as special rapporteur but due to her alleged links with the Ilocos-Cordillera Regional Committee of the Communist Party of the Philippines and the New People's Army (CPP-NPA). AFP/File
Int'l group condemns Philippine bid to label rights defenders as terrorists
MANILA, Philippines — Dublin, Ireland-based organization Front Line Defenders denounced the inclusion of human rights defenders in a government petition to label more than 600 people as "terrorists", saying it puts them in danger of being arrested or attacked.
In a statement, it said the Justice department's petition is the "latest in a series of moves to delegitimize and undermine the work of human rights defenders in the Philippines by the Duterte administration."
The group, also known as the International Foundation for the Protection of Human Rights Defenders, said it "believes that the HRDs are being targeted for their peaceful and legitimate human rights work in the Philippines."
It added: "The climate of impunity that prevails in the country, combined with the administration's encouragement of extrajudicial killings has resulted in the serious deterioration in the situation for human rights defenders in the country."
Local rights group Karapatan said there are 46 human rights defenders on the list. Among them are UN special rapporteur on the rights of indigenous peoples Victoria Tauli-Corpuz and Karapatan National Executive Committee member Elisa Tita Lubi.
The government insists it has grounds to label indigenous peoples' rights advocates, human rights defenders and other activists as terrorists.
Last month, Department of Justice sought to declare the Communist Party of the Philippines and its armed wing, the New People's Army, as terror bodies under the Human Security Act of 2007. This came months after Duterte signed a proclamation tagging CPP and NPA as terrorist groups.
Under the law, the Court of Appeals can authorize government agents "to track down, tap, listen to, intercept, and record communications, messages, conversations, discussions, or spoken or written words of any person suspected of the crime of terrorism or the crime of conspiracy to commit terrorism."
Under the same law, the Anti-Terrorism Council can also order the arrest of suspected terrorists even without a warrant.
"Within this context, scores of legitimate and peace human rights defenders have been labelled as terrorists, making them targets of violence and judicial harassment by associating them with 'terrorist organizations' and putting them in grave danger," Front Line Defenders said.