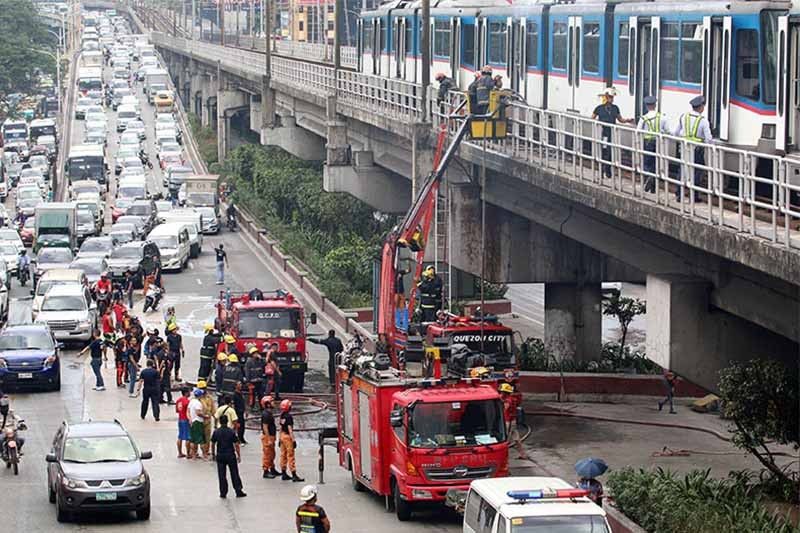 Smoke billows from a coach of a train of the Metro Rail Transit while traveling along EDSA this. In this photo, firemen use a ladder to reach the smoking coach. The STAR/Boy Santos
Palace says it has proof of plunder of MRT maintenance money
MANILA, Philippines — Presidential spokesperson Harry Roque on Thursday said that the administration has "documentary evidence" to prove allegations that the maintenance of the ailing Metro Rail Transit 3 was "plundered."

In a press briefing, Roque warned officials of the administration of former President Benigno Aquino III that they would be made accountable for the supposed misappropriation of the money intended for the upkeep of the vital train line.

Roque said that this misuse of public funds was one of the reasons for the poor services of MRT 3, which runs from Taft Avenue in Pasay City to North Avenue in Quezon City.

In a previous Senate investigation into the problems hounding the train line, MRT officials said that there were only seven trains servicing their more than 250,000 passengers. In recent days. the number of available trains has increased to 10 although breakdowns have still been reported.

"Justice is slowly catching up on you," Roque said in a televised media briefing from the presidential palace.

Roque said that two whistle-blowers, who were officials of the MRT, had handed him documents that would prove the diversion of maintenance funds of the train line.

"I got my first batch of documents today. But I have gotten information as… possible I think it's about three weeks ago," Roque said.

The president's spokesman said that the administration is hoping that the Office of the Ombudsman, headed by Aquino-appointed Conchita Carpio-Morales, would initiate an investigation into the issue since an official complaint was already filed last year.

He said that the ombudsman could look for more evidence if the proof presented is insufficient.

In a radio interview Wednesday, Roque claimed that a third of the maintenance funds of the MRT went to the "political machinery" of a group he declined to name.
Another third, he said, went to a Pangasinan group while only the remaining third was spent to maintain the MRT, resulting in poor service and frequent breakdowns.

Roque said that he would forward the documents given to him to the Department of Justice and the National Bureau of Investigation before disclosing them to the public.

"But I promise that this will be a continuing activity that we will have here, and which is dissecting the plunder of MRT 3," he said.

Roque said former MRT General Manager Al Vitangcol is not one of the two whistle-blowers who approached him.

"Let's just say that with independent information being furnished me right now, perhaps I should go out of my way and refer GM Vitangcol also to the NBI," he said.

Roque said Tuesday that President Rodrigo Duterte directed Solicitor General Jose Calida to determine the liability of former Aquino administration officials such as Transportation secretaries Joseph Emilio Abaya and Manuel Roxas II.

The Department of Transportation already filed last year a complaint before the ombudsman against former Transportation officials and several former Cabinet members in connection to the maintenance woes of the MRT.