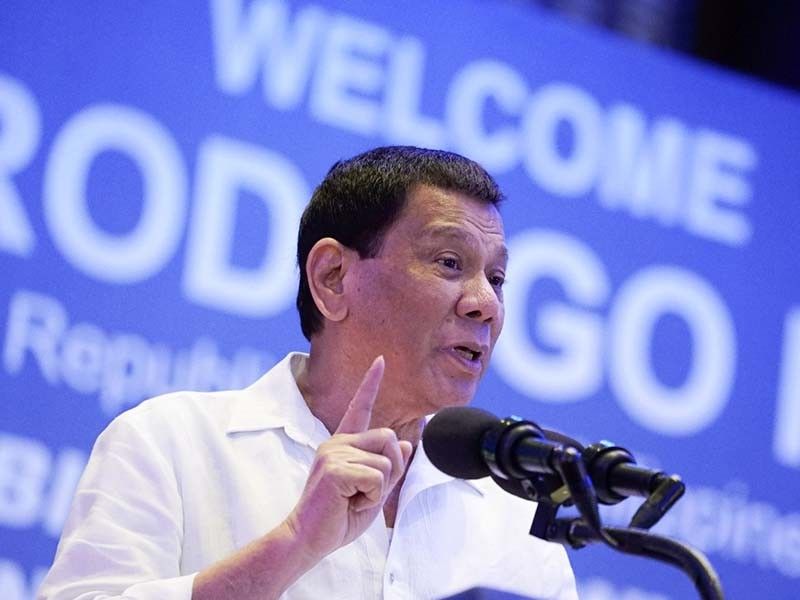 President Rodrigo Duterte, in his speech during the 10th Biennial National Convention and 20th Founding Anniversary Celebration of the Chinese Filipino Business Club Inc. at the Manila Hotel on Feb. 19, 2018, insists that he has been doing what he can to fulfill his campaign promises.
Presidential photo/King Rodriguez
US intelligence lists Duterte as threat to democracy in Southeast Asia
MANILA, Philippines — President Rodrigo Duterte, along with Cambodian Prime Minister Hun Sen, are among Southeast Asian leaders that pose a threat to democracy and human rights in the region, according to the US Intelligence Community.
In its world threat assessment published last week, the US intelligence noted that democracy and human rights in many Southeast Asian countries will remain "fragile" this year.
"In the Philippines, President Duterte will continue to wage his signature campaign against drugs, corruption, and crime," the report read.
Daniel Coats, Director of National Intelligence of the US, noted that Duterte's declaration of martial law in Mindanao has been extended until the end of 2018.
"Duterte has suggested he could suspend the Constitution, declare a 'revolutionary government,' and impose nationwide martial law," Coats said.
In a congressional hearing last week, US Pacific Command commander Harry Harris Jr. said that Duterte's drug war have strained ties between the Philippines and the US.
"In the Philippines, the scourge of drug use has had multiple destabilizing effects, at the family-level, community-level, and the national level, as President Duterte's efforts to address the problems have created relationship challenges with the US and others," Harris told the US House Committee on Armed Services.
The worldwide assessment threat also cited the Freedom House report where the Philippines was listed as among the governments that used social media to spread government views and counter government criticism online.
"We note that more governments are using propaganda and misinformation in social media to influence foreign and domestic audiences," the US intelligence chief said.
US intelligence, on the other hand, noted that Southeast Asian countries will struggle to preserve an autonomous foreign policy in the face of Chinese "economic and diplomatic coercion."
Cambodia is seen to forge closer ties with China as Hun Sen alienates Western partners, pushing Phnom Penh to rely on Beijing for political and financial support.
"Cambodian leader Hun Sen will repress democratic institutions and civil society, manipulate government and judicial institutions, and use patronage and political violence to guarantee his rule beyond the 2018 national election," the report read.
The Rohingya crisis in Burma increases the risk of violent extremism and will provide an opportunity for China to expand its influence, according to Coats.
China also predicted to pursue an active foreign policy in the Asia Pacific region, as seen on its firm stance on its sovereignty claims in the East China Sea and South China Sea.
Meanwhile, Thailand's new Constitution will give way to the military's influence despite their leaders' pledge to hold elections late this year.
"Democracy and human rights in many Southeast Asian countries will remain fragile in 2018 as autocratic tendencies deepen in some regimes and rampant corruption and cronyism undermine democratic values," the report read.
The US Director of National Intelligence released the report which seeks to assess the threats to US national security for 2018.