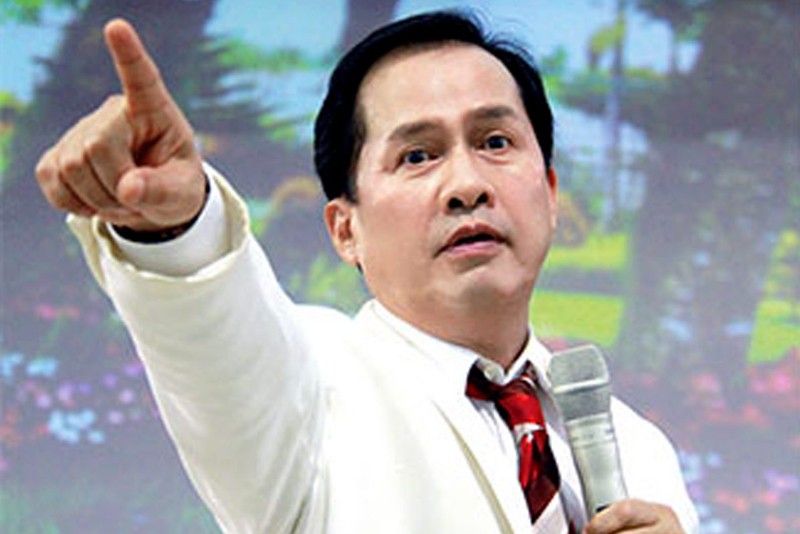 Apollo Quiboloy detained, jet held in Hawaii
(The Philippine Star) - February 16, 2018 - 12:01am
DAVAO CITY, Philippines — Kingdom of Jesus Christ evangelical leader Apollo Quiboloy was reportedly held in Hawaii for alleged possession of $350,000 in cash as well as gun parts found in his Cessna Citation Sovereign private plane bound for Manila on Feb. 13.
Quiboloy was in Hawaii for the last leg of his "King is Coming" tour in the United States and was reportedly on his way home for another prayer concert this weekend at the Ynares Center in Antipolo City.
The STAR tried to get the side of KJC officials but was told to wait until Quiboloy returned from Hawaii on a commercial flight. A KJC official said Quiboloy would answer all questions upon his arrival.
Radio station dzBB reported that Quiboloy arrived at the NAIA last night, but he was escorted through the VIP exit and avoided the media.
US authorities are reportedly in the process of seizing his jet, worth at least $15 million, which is in Honolulu.
Quiboloy, who supported President Duterte in the 2016 polls, is a longtime friend who has the same interests as the Chief Executive.
Duterte also used the pastor's private plane and sometimes his helicopter during the campaign for the 2016 elections.
The HawaiiNewsNow.com reported that Customs and Border Enforcement agents on Tuesday boarded the pastor's private plane carrying him and six other people when they found $350,000 in cash and gun parts to assemble military-style rifles.
But the agents took custody of only one person identified as Felina Salinas, 47, of Makakilo, Hawaii, the sole US citizen on the plane.
Salinas reportedly claimed that the suitcase with the cash was hers. The cash in $100 bills were neatly stuffed inside socks in a suitcase, according to the HawaiiNewsNow.com.
Based on the report, federal law requires anyone taking more than $10,000 out of the country to declare it. Salinas was charged with attempted bulk cash smuggling after she reportedly declared only $40,000 of $350,000 found by authorities.
Salinas was released on $25,000 bond. Her next court appearance was set on Feb. 27, the report said.
Quiboloy was detained for a day and later left on a commercial flight for the Philippines, the report added.
Quiboloy's KJC the Name Above Every Name, founded and based in Duterte's hometown of Davao City, claims to have six million followers worldwide and has a church in Waipahu, which Salinas manages, according to HawaiiNewsNow.com.