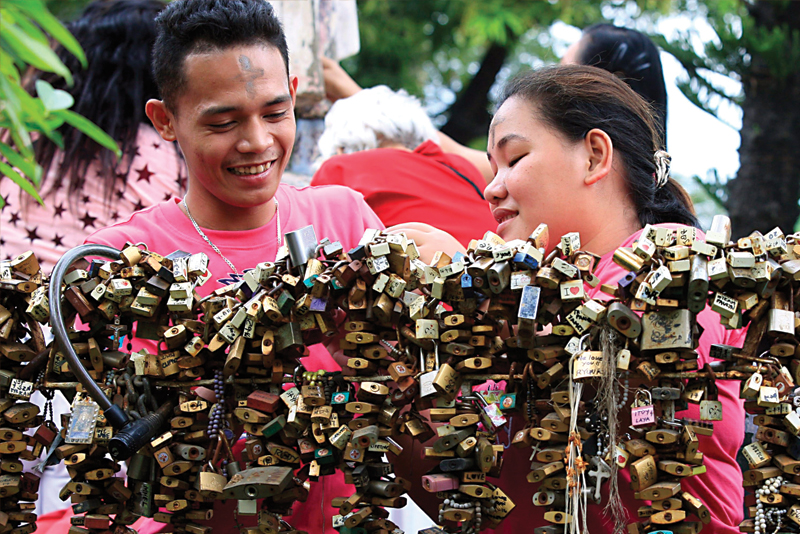 A couple places a lock on a 'love lock' fence as they celebrate Valentine's Day in Parañaque yesterday. Edd Gumban
3 of 5 Pinoys choose career over love – SWS survey
Helen Flores
(The Philippine Star) - February 15, 2018 - 12:01am
MANILA, Philippines — Almost three out of five Filipinos will choose career over love, the latest Social Weather Stations (SWS) survey revealed.
The poll, conducted from Dec. 8 to 16, 2017, found 59 percent of adult Filipinos who chose career, while 41 percent chose love life.
The SWS asked the question, "In case you have to choose between your love life and career, which of these two would you choose?"
The preference for career over love life was highest among those with no love life (81 percent).
"In terms of civil status, preference for career over love life was high among singles, regardless of sex," the pollster said.
It said 60 percent of women and 57 percent of men chose career over love life.
The same survey also showed 57 percent of Filipinos who described their love life as "very happy," while 29 percent said "it could be happier" and 14 percent said they did not have a love life.
This was similar to 2016's 55 percent who said their love life was very happy, 31 percent said it could be happier and 14 percent with no love life.
The proportion of those who were very happy with their love life was 58 percent when SWS first surveyed it in 2002.
In terms of civil status, those very happy with their love life were higher among the married (men 71 percent, women 62 percent).
The proportion of those who have no love life reached its highest level in 2016 and 2017 at 14 percent.
Meanwhile, eight in 10 Filipinos or 84 percent believe it is possible to succeed in love and career at the same time, with 66 percent of them saying they have experienced it.
Fifty-eight percent answered it is definitely possible, 26 percent somewhat possible, five percent somewhat impossible and three percent definitely impossible.
Eight percent could not say whether it is possible or not.
The SWS poll used face-to-face interviews of 1,200 adults aged 18 and above nationwide.
Meanwhile President Duterte has again called on couples to practice family planning and to use contraceptives, considering the ballooning population of the Philippines.
Duterte reiterated his call for family planning when he welcomed repatriated Filipino service workers from Kuwait upon their arrival at the airport on Tuesday night.
In 2014, the Supreme Court issued a temporary restraining order (TRO) against the Responsible Parenthood and Reproductive Health Law due to claims that the Food and Drug Administration violated drug approval protocols for a number of contraceptive drugs. – Christina Mendez