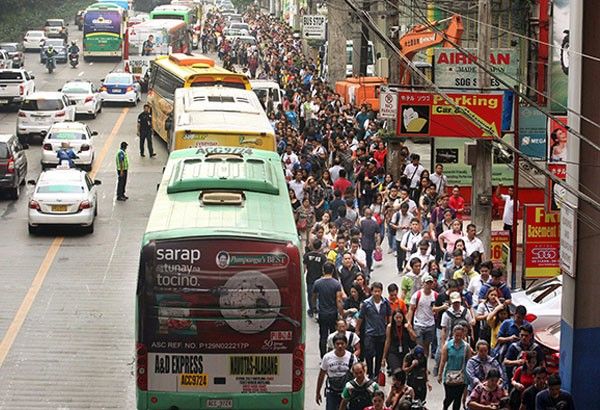 The bus operator groups are also asking the LTFRB to grant a provisional fare increase while the main petition is still pending before the board. File photo
Bus operators seek fare hike to meet higher operational costs
MANILA, Philippines – Bus operators on Tuesday filed a petition for at the Land Transportation and Franchising Regulatory Board seeking fare increases to address higher costs.
Southern Luzon Bus Operators Association, Nagkakaisang Samahan ng Nangangasiwa ng Panlalawigang bus sa Pilipinas and Samahang Transport Operators ng Pilipinas Inc., through legal counsel Cesar Cainglet, asked the LTFRB to allow a fare adjustment because of a "surge in operational costs."
The petitioners said the increase of operational costs "directly and adversely affect the petitioners-members financial liquidity and their capability to further conduct business."
The bus operator groups are also asking the LTFRB to grant a provisional fare increase while the main petition is still pending before the board.
"The fundamental requisite of due process mandates due notice and hearing to all stakeholders, principally the commuting public-at-large, thus entailing considerable time prior to the resolution to the petition-in chief," the petition dated Jan. 16, 2018 read.
"Ad interim herein petition members which are collectively a vital component of the mass transport system in the entire provinces of the Philippines and Metro Manila, cannot but continue to serve the commuting public as they cater principally to the low income group of commuters, such as ordinary employees, students, and workers, to their further disadvantage and resulting in further losses to their businesses," it added, highlighting the urgency for the increase.
Under their proposal in the provisional and main petitions, the minimum fare for ordinary buses in Metro Manila would be raised to P13.30 from P10 for the first five kilometers and additional P2.45 for every succeeding km.
Air-conditioned buses in Metro Manila would increase fares to P15.95 from P12 for the first five kilometers, and P2.95 for every succeeding kilometer.
The following fare scheme has been proposed for provincial bus operations:
Ordinary buses
First five kilometers – P11.95 from P9
For every succeeding kilometer – P1.85 from P1.40
Air-conditioned buses
Regular Aircon buses – P2.15 per km from P 1.60 per km
Deluxe Aircon buses – P2.25 per km from P1.70 per km
Super Deluxe Aircon buses – P2.40 per km from P1.80
Luxury Aircon buses – P3 per km from P2.25