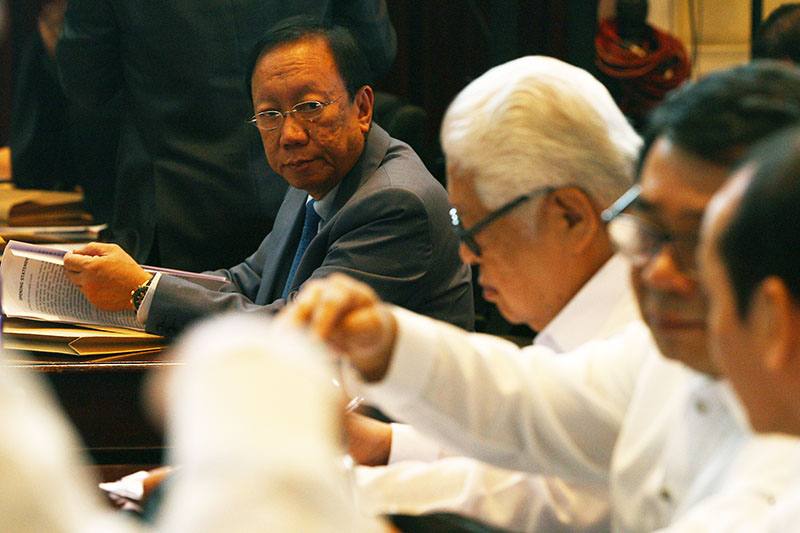 Solicitor General Jose C. Calida on Friday chided Ombudsman Conchita Carpio-Morales for not enforcing the suspension issued by President Rodrigo Duterte, through the Office of the Executive Secretary, against Overall Deputy Ombudsman Melchor Carandang. Miguel Antonio de Guzman
Calida: Ombudsman will 'contradict self' by disciplining Carandang
MANILA, Philippines — Ombudsman Conchita Carpio-Morales cannot discipline Overall Deputy Ombudsman Melchor Carandang, Solicitor General Jose Calida said, because, he argues, she has already "inhibited" herself from the probe on President Rodrigo Duterte's hidden wealth.
"The Ombudsman cannot also discipline the ODO for acts committed in a case where she inhibited herself as she will contradict herself," Calida said in a statement on Friday.
"[Carpio-Morales] sanctimoniously invoked a distorted interpretation of the Ombudsman's independence to shield her office from accountability," Calida said, stressing: "This is a travesty of justice."
Citing the 2014 Supreme Court ruling that ruled that the Office of the President does not have disciplinary jurisdiction over Ombudsman officials, Carpio-Morales said that she will not enforce the suspension issued by President Rodrigo Duterte, through the Office of the Executive Secretary.
This is a developing story.