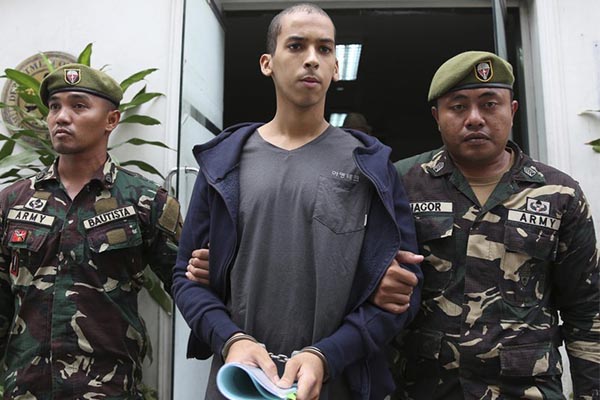 Spanish national Abdelhakim Labidi Adib is escorted by army troopers after attending proceedings at the Department of Justice in Manila, Philippines, Wednesday Jan. 24, 2018. Army troops have captured Spanish national Adib who they say was carrying grenades and bomb parts and is believed to be supporter of Islamic State group-linked Abu Sayyaf militants on southern Basilan island. AP Photo/Aaron Favila
Suspected spanish terrorist only went to PH for vacation, not support IS-Maute
MANILA, Philippines — Spanish national Addelhakim Labidi Adib was in the Philippines merely for vacation when he was nabbed by government forces as a suspect supporting Islamic State group-linked Abu Sayyaf militants.
Labidi Adib is facing complaint filed by the Philippine Army claiming that he violated the Republic Act 9516 or illegal possession of explosives.
But Labidi Adib said that he went to the Philippines wanting to see the famous tourist spots in Mindanao, after seeing "good reviews" from the internet.
"I went here in the Philippines as a tourist. I have no intention whatever to aid anyone in any terrorist activity especially in causing trouble to the community," his counter-affidavit filed before the state prosecutors on Wednesday said.
READ: Illegal possession of explosives rap filed vs suspected Spanish terrorist
The Spanish national said that he stayed in Davao City for five days, then he explored to Cagayan de Oro next where he met a certain "Abuzaid."
"I met him on the street like any other person and we would meet often," Labidi Adib said.
Abuzaid asked him to visit Basilan next, said the Spanish national.
It was when he was arrested by the military who were then acting on an intelligence information that reported of a presence of a foreign terrorist in the area.
According to the military, at around 11 p.m. on January 22, government forces stationed at a checkpoint in Maluso, Basilan saw Labidi Adib and another Filipino. The two reportedly ran away, but the Spanish national was caught.
His companion, believed to be a member of the Abu Sayyaf, eluded arrest by jumping off a cliff.
The Spanish national, however, contradicted this in his defenses and said that it was January 20, 5:00 in the afternoon, when he was arrested by the Philippine Army.
"It is respectfully submitted that at the time I was illegally arrested by civilian persons, I was just walking on the road aside from that I was not doing any crime nor was about to do a crime besides there is no checkpoint," Labidi Adib added.
Labidi Adid asked the DOJ to drop the illegal possession of firearms filed against him.
The DOJ deemed the case submitted for resolution on Wednesday.