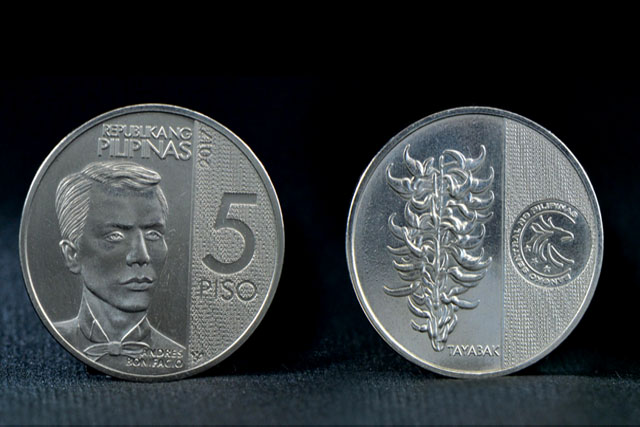 Although both are silver in color, the new P5 coins is heavier (7.4 grams), thicker (25 millimeters in diameter) and larger than the existing P1 coin, according to the central bank. Bangko Sentral ng Pilipinas, Released
BSP: New ?5 coin designed by 'two expert committees'
(philstar.com) - December 28, 2017 - 10:58am
MANILA, Philippines — The Bangko Sentral ng Pilipinas on Thursday highlighted the design features of the ?5 New Generation Currency (NGC) coin to clear confusion among the public because of its similarities with the existing ?1 coin.
In a statement, BSP said it acknowledges the observations from the public that the two coins look similar.
"Issuance of the NGC coins, their design features and specifications was the result of an extensive and in-depth study by two expert committees of the BSP – the numismatic committee and the currency management committee," it said.
BSP cited the need to enhance the security features of the coins using the latest technology in minting to avoid counterfeiting, the need to discourage acts of illegal extraction of their metal content and the need to adapt more cost-efficient processes.
Both are silver in color, the new ?5 coin is heavier (7.4 grams), thicker (25 millimeters in diameter) and larger than the existing ?1 coin, according to the central bank.
The new ?5 coin's sides are smooth, while the ?1 has ridges.
Moreover, the ?5 NGC coin features the Andres Bonifacio, on the obverse, replacing Emilio Aguinaldo. It also has markings "ANDRES BONIFACIO" and "5 PISO."
Its reverse, meanwhile, features tabak, a Philippine endemic plant, along with BSP logo and Bangko Sentral ng Pilipinas in microprint.
The new ?5 coins, which was issued on November 29, was released to commemorate the 120th death anniversary and the 154th birth anniversary of Bonifacio.
BSP said the advanced issuance of the coin was to alleviate the artificial shortage of coins caused by keeping them in coin banks which prevent circulation and to address the greater demand for coins during Christmas season.
"We seek the public's cooperation on these necessary changes. The BSP is confident that in time and with increased usage, the features of the ?5 NGC coin and other denominations in the NGC series, would gain greater familiarity," the central bank said.
On Wednesday, Sen. Nancy Binay urged the BSP to temporarily halt the issuance of the redesigned ?5 coins, citing they confuse the public and impact small businesses.
The rest of the NGC Coin Series will be launched on January 19.
READ: Binay asks BSP to temporarily halt rollout of new P5 coins