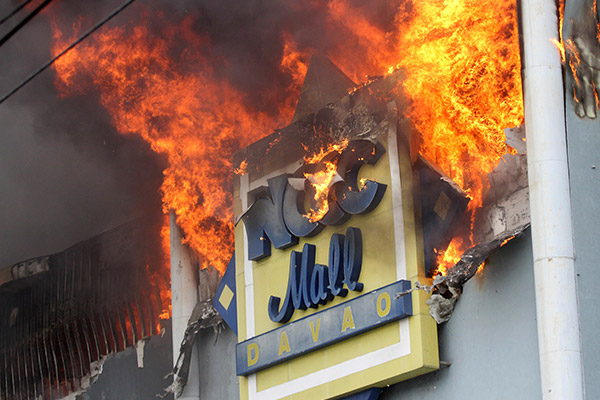 Justice Secretary Vitaliano Aguirre II said he instructed NBI Director Dante Gierran on Sunday night to conduct a parallel investigation to determine if there are criminal liabilities and to file charges against those who could be held responsible. AP/Manman Dejeto, File
NBI, DOLE to probe Davao city's NCCC Mall fire
(The Philippine Star) - December 25, 2017 - 4:00pm
MANILA, Philippines — Justice Secretary Vitaliano Aguirre II has ordered the National Bureau of Investigation (NBI) to probe the fire that gutted the New City Commercial Center, better known as the NCCC Mall, in Davao City, killing at least 37 people.
Aguirre said he instructed NBI Director Dante Gierran on Sunday night to conduct a parallel investigation to determine if there are criminal liabilities and to file charges against those who could be held responsible.
"We want the NBI to be involved with its own probe. Their findings will enable us to make those responsible fully accountable before our courts via the criminal cases that will be filed. By punishing those responsible, we can set an example to others so that, hopefully, there will be no repetition of these tragedies," Aguirre said in a statement yesterday.
Labor and Employment Secretary Silvestre Bello III also ordered the department's regional office to determine if the mall management committed occupational safety and health standard violations.
"The findings of the investigation shall be submitted directly to me for purposes of determining responsibility and for appropriate legal action. Some people must be held responsible for the senseless loss of lives," Bello said in a statement.
All 37 bodies were accounted for yesterday afternoon, as authorities found them huddled together near a fourth floor stairwell.
The recovery was announced during the mass celebrated by Davao Archbishop Romulo Valles for the victims' relatives near the mall yesterday.
Leopoldo Vega, Southern Philippines Medical Center executive director, said the remains of the victims would first be brought to the hospital for identification and medico-legal examination.
Wilberto Kwan Tiu, Bureau of Fire Protection (BFP) director in Davao, said the bodies were charred and could only be identified through DNA matching or by the pieces of clothes or jewelry that their relatives could recognize.
He believed all 37 died of suffocation, explaining that "it is impossible for anyone to survive the intensity of the heat as a human being could only survive for about five to six minutes in that kind of heat."
Toxic chemicals like cyanide and carbon monoxide were also released during the blaze, further dimming chances of survival, he said.
For the remaining SSI workers, Bello said he directed the DOLE regional office to inventory and assess the affected employees so they could be provided with emergency employment, which would last for a month.
"Depending on the assessment of our regional office, we will look into other means by which DOLE can extend further assistance to the victims of the tragic incident," the secretary added.
In Manila, a group of business process outsourcing (BPO) employees sought an independent and deeper investigation into the incident.
Initial reports said the blaze started at the four-story mall at around 9:30 a.m. last Saturday.
Built in 2003 by the Lim family, the NCCC Mall was one of the city's big establishments that housed a call center.
The BPO Industry Employees Network lighted candles in Makati to mourn the death of their colleagues and dramatize their demand for a full-blown investigation. Employees from different BPO firms in Metro Manila participated in the candle lighting activity.
"We demand justice and accountability for the tragic death of 37 people in the Davao mall fire," the group said, adding that the information it gathered from concerned individuals point to violations on safety standards.
All who died were BPO employees of Research Now and Survey Sampling International (SSI), located on the mall's 4th floor.
The SSI assured bereaved families of assistance, including funeral arrangements and funds. It also arranged counseling for other employees.
"The terrible tragedy has left us with heavy hearts. We offer our condolences and prayers to the families and loved ones of the victims," SSI chief operating officer Gary Laben said in a statement.
The company employs 500 workers at its NCCC Mall location.
Meanwhile, Senate President Aquilino Pimentel III expressed his condolences to the victims as he called on the BFP to thoroughly investigate the blaze.
"I cannot express with words the grief that I share with the families of those trapped inside NCCC. I still hope for the best possible outcome. Our thoughts and prayers are with them at this terrible time," Pimentel said in a statement.
Those trapped were identified by resigned Davao City vice mayor Paolo Duterte as all SSI employees.
"I want to know why they were trapped and if there is anything we could have done to avoid this. I look forward to the report of BFP and see if we need to update our fire safety regulations to prevent a tragedy like this from happening again," he said.
Tiu said they have started investigating the incident by taking testimonies from survivors and management. His officers are also determining the origin and cause of fire.
"There were speculations but we have to really determine it," Tiu said.
He said that the cinema on the third floor was the last portion of the mall that got burned. The SSI call center rented the entire fourth floor. – Paolo Romero, Edith Regalado