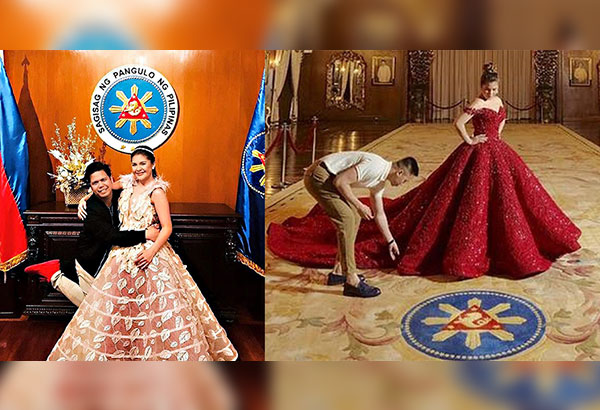 The photoshoot of Isabelle, daughter of the president's eldest son Davao City Mayor Paolo Duterte, has drawn flak from critics who questioned why she was allowed to pose with the presidential seal on the background. File
Duterte defends granddaughter Isabelle's pre-debut photoshoot
MANILA, Philippines — President Rodrigo Duterte has defended the pre-debut photoshoot of his granddaughter Isabelle in Malacañan, calling it a "small matter."
The photoshoot of Isabelle, daughter of the president's eldest son Davao City Mayor Paolo Duterte, has drawn flak from critics who questioned why she was allowed to pose with the presidential seal on the background.
Supporters of the president defended the photoshoot, saying everyone who visited Malacañang also took photos of themselves. Presidential spokesman Harry Roque claimed no taxpayer money was used during the photo shoot.
Duterte believes there is no big deal about Isabelle's photo session.
"Ano ba naman 'yan? Kadugo ko 'yan eh (What's the fuss? She is part of my family). Small matter, gamitin lang 'yung Malacañan. Wala naman ako doon (They just used Malacañan. I was not there)," the president said.
"But even if I was there, my granddaughter had a photoshoot, all visitors who go there took photos," he added.
The photo shoot has spawned the parody account Malacañang Events and Catering Services, which took a jab at the private events held at the country's seat of power.
These events include the welcoming celebration of the daughter of actor Robin Padilla and television host Mariel Padilla and the birthday party of Marinduque Rep. Allan Velasco.