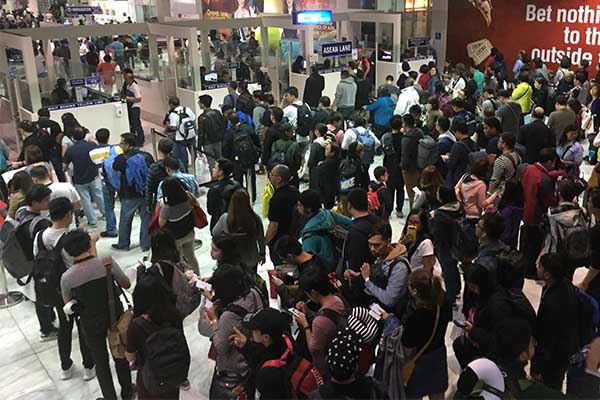 Immigration lines at the Ninoy Aquino International Airport. File photo
BI equips computers in international ports with new biometrics-based software
(philstar.com) - December 18, 2017 - 1:25am
MANILA, Philippines — Computers in immigration counters are now upgraded with a new biometrics-based system to improve the Bureau of Immigration's capacity to bar undesirable aliens from entering the country.
In a statement on Monday, Immigration Commissioner Jaime Morente said that international airports nationwide have been using the new software called border control information system (BCIS) for two weeks now.
"A major feature of this new system is that aside from speeding up the processing time for passengers, it is also capable of detecting attempts by undesirable alien, such as wanted fugitives and terrorists, to enter the country even if they come in as impostors or in disguise," Morente explained.
The BCIS equipped computers used in immigration counters with cameras and finger scan device. The new software was first tested in the airports of Mactan-Cebu, Clark, Kalibo, Davao and Laoag before it was installed in all premier international ports across the country.
"Each time a passenger's face is captured by camera and his fingers scanned, the results are automatically crossed matched with the passport image and images in the BI database where personal details of persons with derogatory records are stored," Morente added.
BI Ports Division Chief Marc Red Mariñas, for his part, said that the BCIS is interconnected with the database of the Interpol and the Australian immigration department.
Through the new software, those placed under the wanted list will be caught if they will attempt to enter the country. Mariñas also said: "With this system, the use of fraudulent travel documents and disguising one's physical appearance will soon become inutile. The chances that they will not be caught is very slim."