Impeach rap filed vs Ombudsman Morales; no endorser
December 13, 2017 | 4:00pm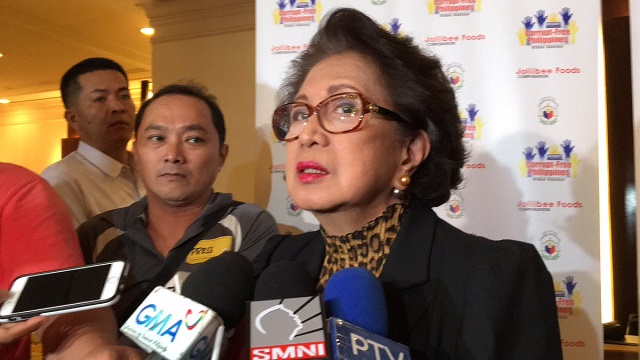 MANILA, Philippines — The Volunteers Against Crime and Corruption (VACC) and other critics of Ombudsman Conchita Carpio-Morales yesterday filed an impeachment complaint against her at the House of Representatives.
The VACC and other critics of Morales – including lawyer Manuelito Luna, former congressmen Jacinto Paras and Glenn Chong, former MRT-3 general manager Al Vitangcol, and Vanguard of the Philippine Constitution Inc. president Eligio Mallari – submitted a 94-page impeachment complaint against her before the House of Representatives' Office of the Secretary General.
But since the complaint failed to get endorsement from any congressmen, it was not considered filed but was merely received and noted by the House's secretary general.
The VACC is a supporter of President Duterte. The Office of the Ombudsman is investigating Duterte and his family's unexplained wealth in the bank accounts.
Among the grounds the VACC cited in the impeachment complaint against Morales were betrayal of public trust, graft and corruption, and culpable violation of the Constitution.
The complaint revolves around the alleged "inordinate delays" in the Office of the Ombudsman's investigation on several complaints, which supposedly resulted in the dismissal of several high-profile cases before the Sandiganbayan.
The complainants also cited Morales' alleged partiality in her office's investigation on the 2015 Mamasapano incident, in which more than 60 people including 44 troopers from the Philippine National Police were killed.
The group said Morales rushed the filing of graft and usurpation cases against former president Benigno Aquino III before the Sandiganbayan in order to shield him from graver charges of reckless imprudence resulting in multiple homicide.
"It is evident that the mandate of the ombudsman to give priority to complaints filed against high-ranking government officials and/or those occupying supervisory positions, complaints involving grave offenses as well as complaints involving large sums of money and/or properties, had been used and is being used only against those personalities," a portion of the complaint read.
The VACC also called Morales a "misfit who does not deserve to stay a minute longer" in office for her obvious partiality towards Aquino, particularly in his alleged liability in the unconstitutional Disbursement Acceleration Program.
"Since she became ombudsman, respondent has done nothing but to sit on the cases against Aquino as well as shield the latter from prosecution," the complaint read.
Duterte's bank accounts
In their complaint, Morales' critics said she must also be held liable for conspiring with Overall Deputy Ombudsman Arthur Carandang in disclosing the supposed illegally obtained bank records of President Duterte and his family.
Carandang earlier said he was authorized by Morales to probe Duterte's bank transactions when the latter was mayor of Davao City in connection with Sen. Antonio Trillanes IV's allegation that the President had ill-gotten wealth.
Carandang said his office had obtained bank documents from the Anti-Money Laundering Council (AMLC) showing that Duterte and his family had over P1 billion worth of transactions in several banks from 2006 to 2016.
But in a statement issued after Carandang's claim hit the headlines, the AMLC denied providing any bank records to the ombudsman.
The AMLC further said it has yet to evaluate if there is ground to initiate an investigation on Duterte's bank transactions.
"No comment," Carandang simply told reporters last month when asked for clarification on how his office obtained Duterte's bank records.
Morales unfazed by complaint
Morales yesterday refused to comment on the impeachment complaint lodged against her.
"Until I get hold of a copy of the complaint, I have nothing to say," Morales said in a text message coursed through the Office of the Ombudsman's Public Information and Media Relations Bureau.
Morales, who is set to retire in July 2018, earlier said that she was not worried about any impeachment complaint.
"No, it doesn't matter. It does not worry me at all," Morales said last month after VACC legal counsel Ferdinand Topacio said the group was preparing a "stronger" impeachment complaint against her that would pass scrutiny of the House.
In an interview with reporters last month, Morales maintained that she always "goes by the evidence" in deciding on the cases to be filed in court against former and incumbent government officials.