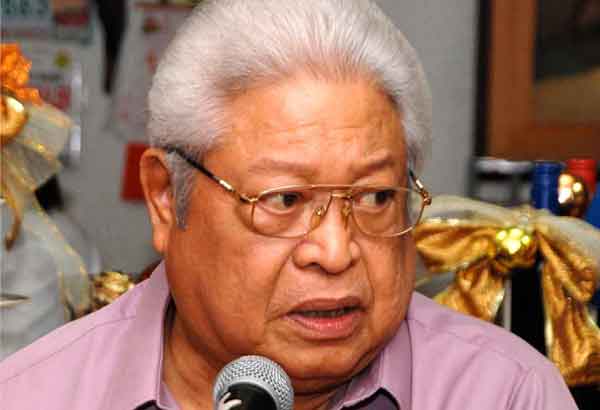 Rep. Edcel Lagman (Albay, 1st District) on Wednesday implored his colleagues: "We are strictly circumscribed by the very Constitution with respect to the limited grounds, as well as limited duration of martial law and its extension." File
Lagman stresses on Constitution limitations on martial law extension
(Philstar.com) - December 13, 2017 - 3:01am
MANILA, Philippines — "You cannot extend another extension," Rep. Edcel Lagman (Albay, 1st District) told the Congress on Wednesday.
During the deliberation on President Rodrigo Duterte's request to extend martial law in Mindanao for another year, Lagman stressed before the lawmakers: "Reading the Constitution, I submit, that there is no justification for a series of extensions. This would be against the intent of Constitution for a limited duration of martial law and its extension."
Lagman implored among his colleagues that they "are strictly circumscribed by the very Constitution with respect to the limited grounds, as well as limited duration of martial law and its extension."
The Constitution provides that: "In case of invasion or rebellion, when the public safety requires it, he may, for a period not exceeding sixty days, suspend the privilege of the writ of habeas corpus or place the Philippines or any part thereof under martial law."
"Upon the initiative of the President, the Congress may, in the same manner, extend such proclamation or suspension for a period to be determined by the Congress, if the invasion or rebellion shall persist and public safety requires it," the Constitution further states.
RELATED: LIVE: Joint Congress session on martial law extension
Lagman stressed: "Rebellion or invasion is not a state of mind or a state of fear."
He added: "There is no actual rebellion or invasion in Mindanao to justify an inordinately long extension."
Senior Deputy Executive Secretary Menardo Guevarra, who sits among resource speakers in the matter, said: "Sir, there is nothing in Section 18 of Article 7 that will give any impression that any extension should be the same as the original period of 60 days."
Guevarra pointed out: "As the matter of fact, your first extension was for more than 60 days already and that has not been challenged anywhere in the Supreme Court." He added that Duterte's first extension has already been implemented."
"There is no basis for the legal argument that any extension should be the same as 60 days," Guevarra also said.
Lagman is among those who filed a petition asking the Supreme Court to declare Duterte's martial law as unconstitutional.
READ: Vast scope of Duterte's martial law powers alarms petitioners
The SC, on July 4, voted 11-3-1 to uphold the constitutionality of Proclamation 216 or the declaration of martial law and suspension of writ of habeas corpus in Mindanao.
On December 5, the SC affirmed with finality earlier decision and junked the motion of reconsideration filed by the petitioners.
The Congress continues to deliberate on Duterte's request on Wednesday morning.
READ: Do Mindanaons support martial law? Surveys suggest they do