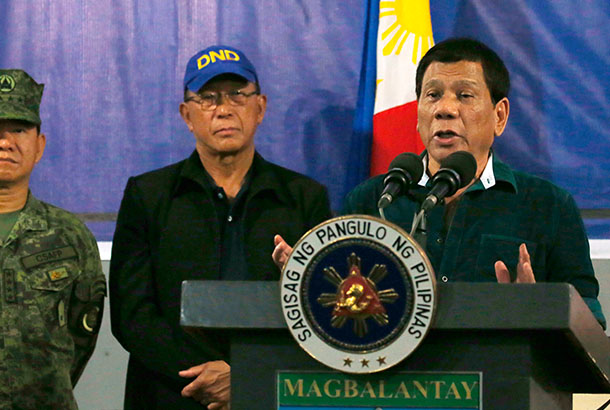 Philippine President Rodrigo Duterte, right, addresses troops during his visit to the 2nd Mechanized Brigade Friday, May 26, 2017 on the outskirts of Iligan city in southern Philippines. Duterte told the troops fighting Muslim militants for the control of southern Marawi city to use martial law powers to defeat the Islamic State group-linked extremists. At left is Armed Forces chief and martial law administrator Gen. Eduardo Ano and at center is Defense Chief Delfin Lorenzana. AP/Bullit Marquez
SC upholds constitutionality of martial law in Mindanao
(Philstar.com) - December 5, 2017 - 6:11am
MANILA, Philippines — The Supreme Court, on Tuesday, has affirmed with finality the constitutionality of President Rodrigo Duterte's declaration of martial law in Mindanao.
In a press briefing, SC spokesperson Ted Te said: "[T]he Court, voting 10-3-1, denied with finality for mootness and lack of merit all three Motions for Reconsideration filed by petitioners against the Court's Decision dated July 4, 2017 that upheld the constitutionality of martial law in Mindanao.
Moot means an issue has already been resolved and the court no longer has to deal with it.
The decision was penned by Associate Justice Mariano Del Castillo.
READ: SC upholds martial law declaration in Mindanao
Those who voted to junk the three motions for reconsideration are Associate Justices Presbitero Velasco, Teresita De Castro, Diosdado Peralta, Lucas Bersamin, Estela Perlas Bernabe, Samuel Martires, Noel Tijam, Andres Reyes Jr. and Alexander Gesmundo.
Chief Justice Maria Lourdes Sereno and Associate Justice Alfredo Benjamin Caguioa, meanwhile voted that the there is "sufficient factual basis for martial law and suspension of the privilege of writ of habeas corpus but in three provinces only."
Senior Associate Justice Antonio Carpio meanwhile voted that martial law should be declared in Marawi City only.
Associate Justice Marvic Leonen is the lone justice who voted to grant the motions for reconsideration and declare unconstitutional President Rodrigo Duterte's declaration of martial law in Mindanao.
Associate Justice Francis Jardeleza was on leave and did not participate in Tuesday's voting.
Clashes between the government and terrorists from the Islamic State-inspired Maute group in Marawi City led to Duterte placing the entire island of Mindanao under martial law on May 23. Congress has agreed to extend martial law in Mindanao until the end of the year.
Duterte, on October 17, declared Marawi City is liberated from terrorists after five months of fighting. He has yet to lift martial law.
On Monday, Presidential Spokesperson Harry Roque said that the Armed Forces of the Philippines is looking into submitting their recommendation on whether to extend the martial law rule in Mindanao within the week.