Do Mindanaons support martial law? Surveys suggest they do
December 13, 2017 | 2:35am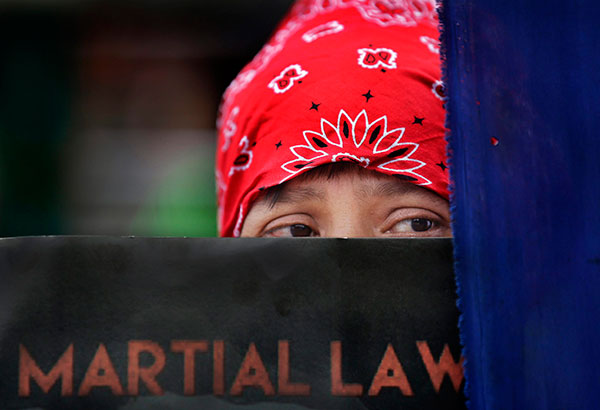 MANILA, Philippines — Congress is holding a joint session on Wednesday to deliberate on a one-year extension of martial law in Mindanao, a move that is said to have the support of Mindanaons.
Duterte declared martial law in Mindanao on May 23 following clashes between government forces and Islamic State and Maute groups. Although Marawi was declared liberated last October, clearing operations in the main battle area continue and officials have said threats remain in Mindanao.
One of the grounds Duterte cited in the need for martial law extension is the recruitment by extremist groups and the continued clashes of government forces with the members of the Communist Party of the Philippines-New People's Army.
In the past six months of Duterte's martial law in Mindanao, polls conducted across the country showed positive support from residents of Mindanao for the declaration, with just two of ten Mindanaon respondents disagreeing with the initial extension until the end of 2017
Support
In a survey conducted by the Social Weather System on June 23-26, a month after the proclamation, 64 percent in Mindanao agreed that Duterte "was right in declaring Martial Law in the whole of Mindanao."
Another 43 percent in Mindanao agreed with the expansion of the martial law rule in Visayas. Meanwhile, 38 percent in Mindanao disagreed and 19 percent were undecided.
The third quarter survey, conducted on September 23-27, found that 64 percent in Mindanao agree with the extension on martial law until December 31.
Less than a quarter of respondents, 23 percent, however, disagreed with the extension until the end of the year.
In both surveys, the SWS conducted face-to-face interviews with 300 adults (18 years old and above) citizens in Mindanao.
Economic effects
The SWS, during the second quarter of the year, also conducted a survey to find out whether respondents believe the declaration had positive or negative effects on the Philippine economy.
The survey, also conducted on June 23-26, suggested that there is a balance of opinion in Mindanao on the matter of economic effects of martial law.
The 27 percent in Mindanao that believed the Philippine economy will get better is countered by 27 percent who said that the economy will get worse.