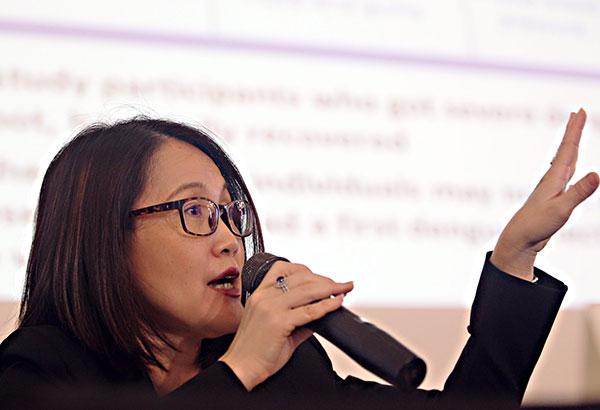 Dr. Ng Su Peing, global medical head at Sanofi Pasteur, speaking during a press conference in Taguig City. Krizjohn Rosales
Dengvaxia still beneficial – Sanofi
MANILA, Philippines — Despite recent findings that Dengvaxia vaccine could cause a more severe dengue infection among previously uninfected individuals, pharmaceutical giant Sanofi Pasteur is insisting that the product is beneficial to Filipinos.
Malacañang also allayed public fears over the possible adverse effects of Dengvaxia and said concerned authorities were working to determine if there were irregularities in the purchase of the vaccine.
In a press conference yesterday, Sanofi Pasteur global medical head Ng Su Peing said critics should consider the fact that the vaccine still provides up to six years of protection against dengue to those with a history of dengue infection.
Furthermore, it can reduce the severity of the disease by 80 percent and the necessity of hospitalization by 93 percent, she said.
She stressed three out of four dengue cases do not usually manifest symptoms. And since the disease is a "public health priority" in the Philippines with some 150,000 cases annually, some nine in 10 Filipinos get infected by the time they reach adolescence.
"Given that, you have to look at local data, you have to look at the epidemiology, the burden of the disease of the country to make an assessment of the zero prevalence," she added.
The Sanofi official admitted they do not recommend Dengvaxia to individuals with no previous record of dengue infection.
"What is important to note, however, is that it depends on which country you might be in. It's sometimes not easy to really identify who had a previous infection because we saw three out of four cases can have no symptoms," she said.
Ruby Dizon, Sanofi Pasteur medical director, said the new findings demonstrate a "different profile of the dengue vaccine for those with or without previous dengue vaccination."
For individuals with record of previous infection, there is a "clear and sustained benefit" of up to six years following the first injection.
"In individuals who have not been previously infected by dengue virus, there is an increased risk of hospitalization for dengue and severe dengue, predominantly the Grade I or II Dengue Hemorraghic Fever (DHF)," she pointed out.
Dizon added that severe dengue can be categorized into milder to more severe forms – DHF I, II, III and IV – based on World Health Organization standards and DHF IV "was not seen among those vaccinated."
Citing the results of the three phases of clinical trial done among 40,000 subjects in 15 countries, including the Philippines, Dizon said the "severe dengue observed in vaccinated individuals was not clinically different from that reported in unvaccinated people in the studies."
"All study participants who got severe dengue, whether vaccinated or not, have fully recovered," she added.
'DOH should not be faulted'
Former health chief Paulyn Ubial said the Department of Health (DOH) should not be faulted for its decision to include the vaccine in its anti-dengue program.
She said that while she sees as somewhat unethical the timing of the launching of the dengue vaccination program in 2016, an election year, she stressed that "we make decision on current available data so its introduction in 2016 was recommended based on data available at that time." She added that "science is dynamic, not static."
"We cannot criticize that decision based on today's discoveries. There are many discoveries before that were said to be good for health then became bad for health. For example eggs, virgin coconut oil, MSG (monosodium glutamate)," she said.
At Malacañang, presidential spokesperson Harry Roque said there is no need to panic over reports that many of those vaccinated with Dengvaxia are under threat of more severe infection.
"The good news is people should not panic about the dengue vaccine. There is no danger with the dengue vaccine," Roque told reporters yesterday.
"To allay the fears of the public, the DOJ (Department of Justice) has stated that it has initiated the investigation on the purchase of this vaccine," he added.
Roque said President Duterte would not hesitate to take action if irregularities were established in the purchase of the vaccines.
"But everything, as of now, will be premature. Let's allow the DOJ to investigate," he said.
Citing Sanofi Pasteur's assurance, Roque said the vaccine was in fact very effective in protecting those previously afflicted with dengue.
He said the only new finding was that the person who has not had dengue may still be afflicted with "severe dengue" after three years.
"The 'severe dengue' that is mentioned by Sanofi will involve symptoms that include two days of fever and hemophilia… It is not the deadly type of dengue," Roque said.
Health department spokesman Lyndon Lee Suy noted that of the 700,000 administered with Dengvaxia, about 70,000 or 10 percent have not had dengue.
"We're talking about at risk, meaning it's not automatic that if you were administered the vaccine and you are part of the 10 percent who has not had dengue, you will be afflicted with severe dengue," Lee Suy said.
He pointed out the health department is open to investigations on the issue. He said the agency is also prepared to face any lawsuit to be filed by parents of students who had received the vaccine.
The implementation of the vaccine program has been suspended because of the new findings of Sanofi Pasteur.
"We're going to wait for further guidance because this week, WHO (World Health Organization) headquarters in Geneva is going to meet as well to address this concern and from there, we will be getting guidance from them again," the health official said.
Lee Suy said they are continuously monitoring the conditions of students given the vaccine.
"That will involve monitoring until the next five years to be sure. If there are initial symptoms of severe dengue, we will catch it immediately and provide immediate attention," he said.
Lee Suy said that based on the information they obtained, those who suffered from severe dengue only stayed in the hospital for four to six days. "Eventually, they were discharged and they improved," he said.
The health official also said the vaccine was a product of 20-year study, contrary to claims that its approval was rushed. – Alexis Romero