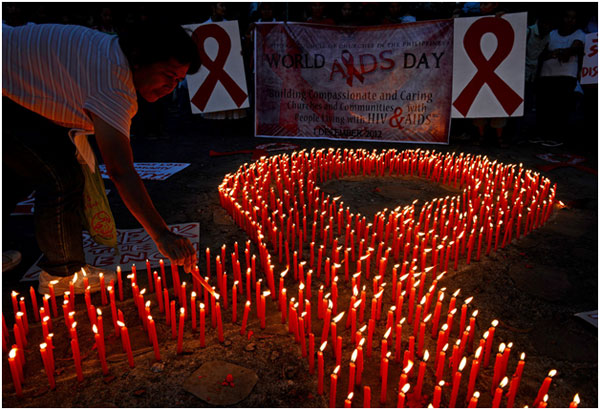 Today marks the annual celebration of World AIDS Day to honor the memories of the HIV and AIDS victims who lost their battle to the diseases. Philstar.com/File Photo
DOH: Only 33% of HIV positive Pinoys seek free treatment due to stigma
(Philstar.com) - December 1, 2017 - 8:50am
MANILA, Philippines — Only 33 percent of people living with HIV in the predominantly Catholic Philippines are enrolled in the government's treatment programs due to stigma and prejudice, the health department told a press conference on Friday to mark the World AIDS Day.
In August, the United Nations said the Philippines saw a 140 percent surge in new HIV cases from 2010 to 2016, countering a regional trend that saw infections slip by 13 percent over the same period.
Health Secretary Francisco Duque III said the Philippines has a total of 46,985 HIV positive cases reported to the Department of Health as of August 2017—33 years since the first infection was detected in the country in 1984.
But Duque said the number of HIV infected Filipinos who were admitted to the DOH's free anti-retroviral therapy (ART) were only at 22,413—or 33 percent of the projected 67,000 Filipinos living with HIV by yearend.
According to Undersecretary Gerardo Bayugo, the low percentage of ART enrollees in the country was due to the disease's stigma and fear of knowing one's HIV status.
"They do not want to come out to the open even if they are already aware of their status," Bayugo said.
"If you are involved in some risky behavior, just to make sure of your status whether you are infected with HIV or not, our facilities are open for testing," he added. "Confidentiality is very important."
The Philippines is home to 100 million people, of whom 80 percent are Catholic.
The nation is greatly influenced by the church which rejects contraceptive use. Testing for HIV is also considered taboo.
The Philippine HIV epidemic remains concentrated among males who have sex with males (MSM) and transgender women (TGW), Duque said.
The young population is also not spared from risks of HIV, with two in three estimated new infections coming from 15 to 24-year-old MSM and TGW, the health chief added.
"By 2022, the goal is to provide ART to 90 percent of people living with HIV," Duque said.
"We urge those who are diagnosed with HIV to come forward and access the life-saving anti-retroviral drugs in all our DOH-designated HIV treatment facilities," he added.
Last month, the Philippine Drug Enforcement Agency and some members of the media reaped criticism for disclosing the HIV status of one of the suspects in a buy-bust operation in a hotel in Bonifacio Global City, Taguig.
PDEA later apologized for the disclosure of the suspect's HIV status, saying "there was no intention to shame much less single out one person."
Under Republic Act 8504, or the Philippine AIDS Prevention and Control Act, a person's HIV status is confidential except in specific medical situations and if subject to a subpoena from a court.
Violation of confidentiality is penalized by from six month to for years in prison as well as fines.
For its part, Malacañang also on Friday urged Filipinos to help end the stigma of HIV/AIDS.
"As we commemorate World AIDS Day, we must work as one to increase the capacity of the country for early warning, risk reduction, and management of national and global health risks, including HIV/AIDS," the Palace said in a statement.