UN experts urge Philippines anew to end attacks, killings in drug war
November 24, 2017 | 6:01am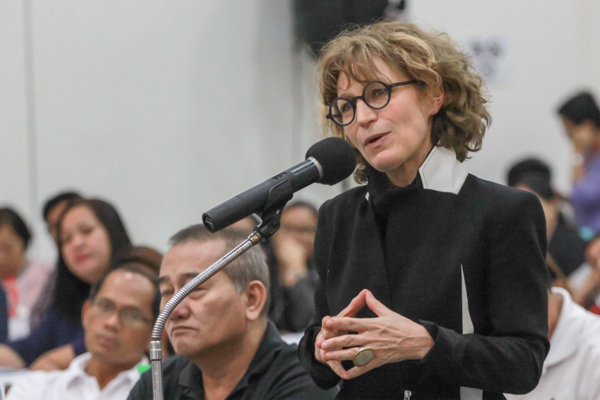 MANILA, Philippines — United Nations human rights experts, including special rapporteur on extrajudicial killings Agnes Callamard, renewed their calls to the Philippine government to put an end to the killings brought by President Rodrigo Duterte's fierce war on drugs.
In a joint statement released November 23, the three special rapporteurs urged the government to conduct prompt and impartial probes into the spate of killings, bring perpetrators to justice and review its current policy.
"We call on the government to urgently introduce appropriate measures to stop these attacks and killings being carried out," they said.
The special rapporteurs cited the cases that have been reported to them, noting that many of the killings appeared to be perpetrated by law enforcement officials and unknown assailants.
"This seems to indicate a climate of official, institutional impunity, which can only encourage further killings and other excessive use of lethal force by law enforcement personnel or those acting on their behalf or with their acquiescence," they said.
The UN experts noted that the Philippine government has an obligation to take effective measures to protect the right to life of its citizens.
"Failure to do so is a violation of the International Covenant on Civil and Political Rights," they said.
The special rapporteurs also stressed that some lawyers, judges and human rights defenders working the cases have received harassment and threats.
"It is essential that the judges and the judiciary as a whole are impartial and independent of all external pressures, so that those who appear before them and the public at large can have confidence that their cases will be decided fairly and in accordance with the law," the experts said.
Duterte's war on drugs, which has claimed over 12,000 lives according to rights watchdog, has received strong criticisms at home and abroad.
The government has disputed these numbers. According to the latest #RealNumbersPH data release, there have been 3,967 drug suspects killed in government operations since July 2016. Government officials, including Foreign Affairs Secretary Alan Peter Cayetano, said all of those killed were drug pushers.
The data releases no longer include information on "deaths under investigation," a tally of murders and homicides that police have yet to determine motives for.
Aside from Callamard, the other UN experts who expressed their concern over the spate of killings in the country were Michel Forst (special rapporteur on the situation of human rights defenders) and Diego García-Sayán (special rapporteur on the independence of judges and lawyers).
READ: UN rights commissioner condemns Duterte threats vs Callamard
'Don't come uninvited'
Malacañang on Thursday reiterated President Rodrigo Duterte's position against the visit of Callamard, who has earned the ire of the president for her criticisms regarding the government's war on drugs, earlier this year.
"My advice—don't come to the Philippines when uninvited," Presidential Spokesperson Harry Roque said.
This statement came after the UN human rights office condemned Duterte's threats and attacks against Callamard.
"We condemn this treatment of Ms. Callamard and the disrespect it shows to the Human Rights Council that appointed her in the strongest terms," spokesperson Rupert Colville said.
Last May, Callamard attended a two-day drug policy forum at the University of the Philippines, where she delivered the keynote speech.
READ: Palace warns Callamard: Don't come uninvited
Coming to the Philippines despite ongoing negotiations on her visit was an "act of bad faith" and angered the president, Roque said.
"She brought a resource person, who the president believes, stated that prohibited drugs is not harmful to human health," the presidential spokesman said, referring to American professor Carl Hart.
Hart, chairman of Columbia University's psychology department, made a statement that there is no evidence that shabu leads to violence or causes brain damage.
Duterte has had harsh words for Callamard in the past, hurling invectives at her in August for commenting on the death of Kian Delos Santos, a 17-year-old boy killed in a Caloocan City police operation.
The tough-talking leader repeatedly threatened the UN expert that he will slap her if she continues to hit his brutal war on drugs.
The president also challenged Callamard to a debate as a condition for allowing her to investigate the killings. She declined, saying these are not within the UN terms of reference for such visits.