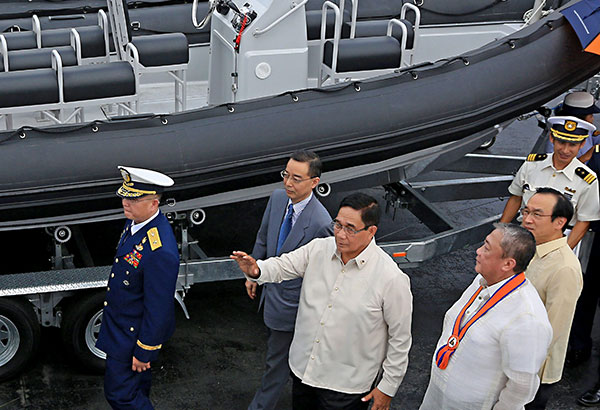 Three rigid hull inflatable boats are formally turned over by Japan International Cooperation Agency chief representative Susumu Ito and Japanese Ambassador Koji Haneda to DOTr Secretary Arthur Tugade, National Security Advisor Hermogenes Esperon Jr. and Coast Guard acting commandant Commodore Joel Garcia during the 116th anniversary of the PCG at the Port Area in Manila yesterday. Edd Gumban
3 Coast Guard vessels may patrol WPS
MANILA, Philippines — The three newly commissioned 44-meter multi-role response vessels of the Philippine Coast Guard might be tasked to patrol the West Philippine Sea in January.
"The three ships might be part of our deployment in southern Philippines to combat piracy. But our acting commandant Commodore Joel Garcia is also contemplating on sending them to patrol the West Philippine Sea," PCG spokesman Commander Armand Balilo said.
National Security Adviser Hermogenes Esperon Jr. last week hinted on making the PCG a lead agency in patrol operations in the western seaboard, alongside the Philippine Navy and the Bureau of Fisheries and Aquatic Resources (BFAR).
Tension in the area has been de-escalated after President Duterte established better relations with China.
Balilo believes that sending white Coast Guard ships – BRP Capones, BRP Suluan and BRP Sindangan – to the contentious area would be a "good thing" to test if relationship with the Chinese Coast Guard (CCG) has improved under Duterte's administration.
Previously, the CCG would ask for details like the purpose, length of stay and distance whenever they see a PCG ship in the area.
He added that there are also talks for the two coast guard agencies to establish a hotline of communication for faster and better coordination during search and rescue operations.
The PCG officer noted that they were supposed to participate in a recent search and rescue exercise in China, but were prevented by bad weather.
Since the PCG fleet is growing, it might also be tapped to patrol the Philippine Rise, about 250 kilometers east of Isabela province.
Transportation Secretary Arthur Tugade, said Duterte appreciates the Coast Guard's hard work in performing missions and salutes the men for offering blood, sweat and lives in the service of the country.