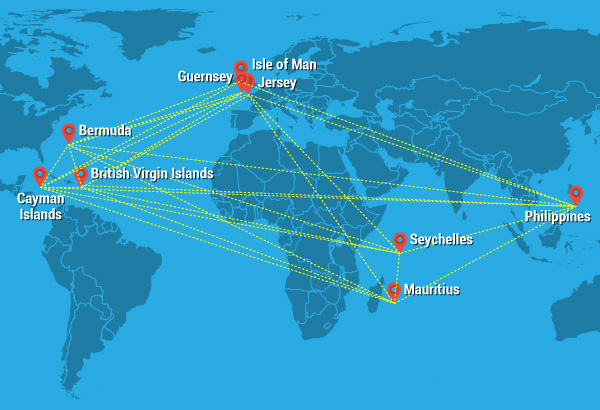 This map shows the location of Bermuda, the British Virgin Islands, the Cayman Islands, Isle of Man, Jersey, Guernsey, Mauritius and Seychelles where law firm Appleby holds offices. The latest dump from the Paradise Papers leak by the ICIJ lists bankers, businesmen and politicians from the Philippines. Philstar.com/Jonathan Asuncion
Filipinos listed in Paradise Papers leak
MANILA, Philippines (Updated 5:39 p.m.) — Several Filipinos figured in the world's second-biggest data leak from offshore law firm Appleby showing how some of the country's politicians and business personalities keep their wealth.
The International Consortium of Investigative Journalists, which released the controversial Panama Papers in April 2016, shared the new leak called Paradise Papers composed of 13.4 million files exposing how the world's biggest businesses, heads of state and figures in politics, entertainment and sports shelter their wealth in tax havens.
IN THE PAST: Filipino billionaires listed in Panama Papers database
Appleby, one of the world's most prestigious offshore law firms, had rejected allegations of wrongdoing by the company or its clients.
"We are an offshore law firm who advises clients on legitimate and lawful ways to conduct their business. We do not tolerate illegal behavior. It is true that we are not infallible," Appleby said in a media statement online.
"Where we find that mistakes have happened we act quickly to put things right and we make the necessary notifications to the relevant authorities," it added.
Leaks such as the Paradise Papers reveal offshore interests, financial dealings and activities of politicians and world leaders not privy to the wider public. Some of the patterns have exposed tax engineering and shopping sprees of major corporations around the world to reduce taxes in their home countries.
Investigations were called in some countries after the earlier Panama Papers leak was revealed. The exposed documents also prompted the resignation of politicians abroad found to be connected to some questionable accounts.
IN THE PAST: Panama Papers: Are Filipino politicians tagged in the biggest leak in history?
The ICIJ noted, however, that there are legitimate uses for offshore companies and trusts.
"We do not intend to suggest or imply that any people, companies or other entities included in the ICIJ Offshore Leaks Database have broken the law or otherwise acted improperly," the group of investigative journalists said.
Also tagged in the Paradise Papers are Queen Elizabeth II, former South African president Nelson Mandela and major donors and advisers to US President Donald Trump.
Executives, bankers, lawyers and business families are also on the list, which so far includes 169 names of individuals and major entities.
The Paradise Papers includes emails, client records, bank applications, court papers and other documents obtained by German newspaper Süddeutsche Zeitung and shared with the ICIJ. The data leak represents the inner workings of Appleby from the 1950s to 2016.