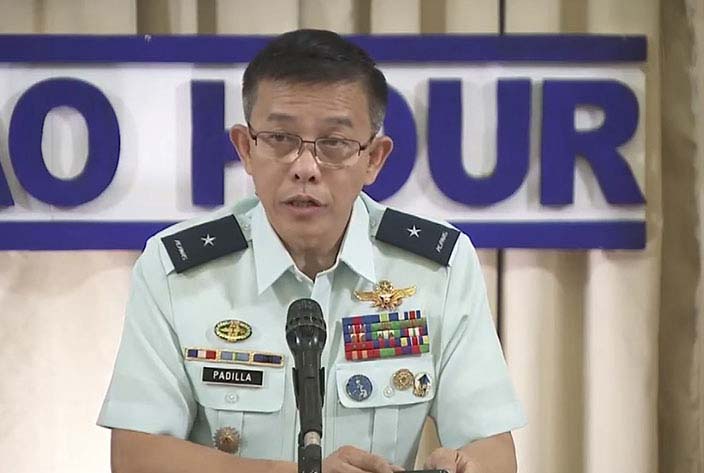 Armed Forces of the Philippines (AFP) spokesman Maj. Gen. Restituto Padilla yesterday said the issue on whether or not martial rule in the region should be further extended can wait for now. PCOO/File
AFP on extending ML: We'll see in a month
MANILA, Philippines — The military will use the last remaining weeks of martial law to address all remaining terror threats in Mindanao following last month's defeat of the Maute group in Marawi City.
Armed Forces of the Philippines (AFP) spokesman Maj. Gen. Restituto Padilla yesterday said the issue on whether or not martial rule in the region should be further extended can wait for now.
"We still have more than one month to do our job. And in that one month, we might be able to finish our other efforts," he explained.
"So, we will make a final assessment once we are able to finish everything and then, if there's a need, we will recommend," he added.
Over the weekend, President Duterte said the decision to extend martial law in Mindanao will be in accordance with the recommendation of the military and the police.
"They are the two entities that would be relied upon heavily by a president or a head of state when he entertains extreme measures (such as) martial law (and) state of emergency," the Commander-in-Chief told a press briefing in Davao City on Saturday.
President Duterte declared martial law in Mindanao upon the start of the Marawi siege on May 23 and had Congress extend it to Dec. 31 after two months of fighting between the Maute group and government troops.
The battle to liberate Marawi from Daesh-inspired militants led by Abu Sayyaf group leader Isnilon Hapilon ended on Oct. 23 after five months of fighting and after the terrorist leader, along with the Maute brothers, was finally killed.
Padilla said the AFP's recommendation on whether or not martial law should further be extended will eventually have to be discussed with the National Security Council as well as the security cluster.
"For now, we will focus on what we can do with the remaining time and then prior to the end of the period, we will make an assessment," he said.
PNP analyzing situation
Meanwhile, Philippine National Police (PNP) chief Director General Ronald dela Rosa is still analyzing the prevailing situation before making any recommendation on the extension or the lifting of martial law in Mindanao.
Dela Rosa will submit his report to Duterte, who will make the final decision.
PNP spokesman Chief Superintendent Dionardo Carlos said the analysis will include the prevailing situation and expected threats posed by terrorism, rebellion, illegal drugs and crimes.
"The PNP will submit to the President, Chief Executive, and Commander-in-Chief (thru appropriate channel) the appropriate recommendation/s based on the assessment and analysis of the prevailing and expected threats… that may undermine and put in peril the security and sovereignity in the affected areas in the country, particularly in Mindanao," Carlos said.
Teams from the AFP and the PNP remain in Marawi City to help the local community regain peace and order. – With Cecille Suerte Felipe