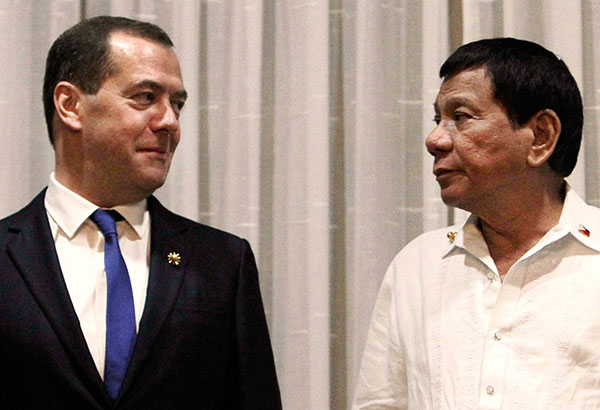 Russian Prime Minister Dmitry Medvedev is shown with President Duterte during their bilateral meeting at the Coconut Palace in Pasay City yesterday.
Rody ready to expand trade with Russia
MANILA, Philippines — President Duterte has expressed the Philippines' willingness to expand relations with Russia, particularly trade, during his bilateral meeting with Russian Prime Minister Dmitry Medvedev on the sidelines of the 31st Association of Southeast Asian Nations (ASEAN) Summit.
The bilateral meeting between Duterte and Medvedev was a followup to Duterte's meeting with Russian President Vladimir Putin last Friday during the Asia-Pacific Economic Cooperation Summit in Vietnam, where Putin also cited the need for better trade relations with the Philippines.
During his talks with Medvedev, Duterte said the Philippine government intends to set up a place in Moscow where Filipinos can showcase their products.?"We have started an improvement of our friendship and the plan (is to) increase our trade, expand it and I know that your country is seriously considering all of these things and we are happy that we can find a new market in the Euro, Eurasian front," Duterte said in his opening remarks during the bilateral meeting.
"We would only want a small opening so we can do business with the other countries," he added.
Medvedev said Russia is also ready to expand bilateral ties with the Philippines.
"We are ready to expand our ties in all the areas and dimensions, including politics and trade economic cooperation, cultural ties," Medvedev said during the meeting on Monday.
Cooperation vs terrorism
Medvedev also said Russia is willing to boost cooperation in the fight against terrorism and extremism, and to supply more weapons to the Philippines in order to maintain peace and order.
"I believe that we have opened with this a new chapter in our relationship. And no doubt we will keep standing by your side, we'll keep assisting you in this very important and sensitive theme and along this track of the fight against terrorism in the course, like bringing or restoring law and order," he added.
Duterte thanked Russia for its assistance at a "crucial moment" during the rebellion in Marawi City.
Last month, Russia donated 5,000 units of AK-74M Kalashnikov assault rifles and one million units 1943-type cartridges with steel core bullets to the Philippines.
"We were able to use the rifles and the arms that you gave us on time," Duterte said.
Duterte also brought up the topic of Russians Yuri Kirdyushkin and Anastasia Novopashina, who are currently detained in the Philippines on drug-related charges.
"I would just like to say that we have a working functional justice system here and they will get a fair trial and that they will be detained in a comfortable house. Whether true or not, we will find out but I will see to it that they are treated fairly," he said.