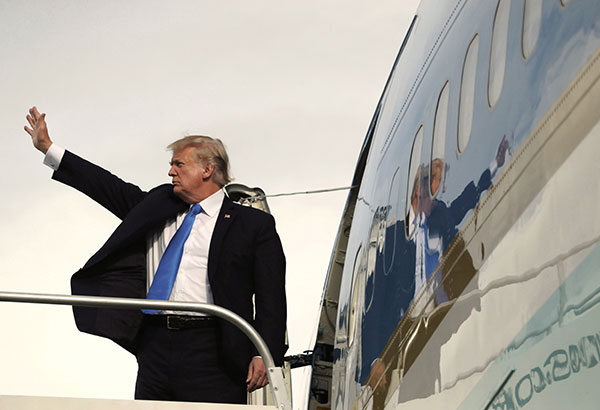 US President Donald Trump waves goodbye at the NAIA as he enters Air Force One yesterday.
'I like Rodrigo, he's a good guy'
MANILA, Philippines — Before boarding Air Force One that would take him back to Washington, US President Donald Trump yesterday made sure his words would reach the ears of President Duterte.
Sent off by Executive Secretary Salvador Medialdea at the Ninoy Aquino International Airport (NAIA), Trump said, "Tell Rodrigo I like him very much. He's a good guy. I had a great time here."
Medialdea, along with US Ambassador Jose Manuel Romualdez and US Ambassador Sung Kim, led the send-off party at NAIA.
"I think it's a very successful trip and the Philippines and the US relations are back on track," Romualdez said. He will fly to Washington on Monday to officially start his tour of duty.
"I told (Trump to) have a safe trip. I'll see you in Washington," Romualdez said, referring to his presentation of credentials at the White House.
Trump reportedly answered: "We look forward to it."
From the Sofitel Philippine Plaza in Pasay City where he was billeted during his two-day stay in the country for the 31st Association of Southeast Asian Nations (ASEAN) Summit and Related Meetings, Trump took the Marine One helicopter to NAIA.
Air Force One took off from the NAIA's Balagbag ramp at 3:26 p.m.
Before he left, Trump delivered his speech at the East Asia Summit (EAS) at the Philippine International Convention Center (PICC).
The EAS is chaired by Duterte, who is also this year's host of the Leaders' Summit.
Trump, however, did not stay to join the traditional "family photo" with fellow EAS leaders.
Trump attended the just-concluded ASEAN-US Summit and had bilateral talks with Duterte last Monday night on the sidelines of the ASEAN Summit held.
At the gala dinner at the SMX Convention Center last Sunday, Duterte said Trump prompted him to join "Asia's Queen of Songs" Pilita Corrales in singing "Ikaw."
"Tremendous talent. Musical talent, dance talent, and we really had a tremendous time, all of the leaders," Trump said.
"The Filipino performers were great. But the greatest performer was him," Presidential Adviser on the Peace Process Jesus Dureza, referring to Duterte, quoted Trump as having told him while the latter pointed his finger to where Duterte was seated with partner Honeylet Avanceña.
Dureza said that he took a chance to engage Trump in a brief chat when the US President passed by and shook hands with him after the gala dinner.
"I told him: you should practice singing, too, so you could do a duet together next time," Dureza said.
To which Trump replied: "Great idea. I'll do that."
Dureza later joined the bilateral talks with Trump and his official delegation along with Medialdea and other Cabinet officials, including Romualdez and Kim.
"The whole bilateral meeting showed clear good vibes between the two leaders," Dureza said.
'Many good friends'
Over his two-day stay in the country, Trump said he made "many good friends."
In his Twitter post yesterday, Trump said he also looks forward to forging "fair trade deals" with ASEAN countries and dialogue partners.
"Just arrived at #ASEAN50 in the Philippines for my final stop with world leaders. Will lead to fair trade deals unlike the horror shows from past administrations," he said.
Trump was apparently referring to the Trans-Pacific Partnership (TPP) that his predecessor Barack Obama had pushed for in the region.
One of Trump's first actions as president was to quit TPP, a broad trade agreement with 11 other nations.
In their first bilateral meeting, Trump and Duterte discussed illegal drugs, free trade and aid for the rehabilitation of war-torn Marawi City.
They also briefly talked about human rights in the country, according to Romualdez.
The US leader earlier hailed his "great relationship" with the Philippine president.
'Making America great again'
For Trump, his Asian trip was all about making America great again.
Yesterday, he declared the success of his five-country trip in the region, saying all countries dealing with the US know that the "rules have changed."
"Will be leaving the Philippines (on Tuesday) after many days of constant meetings and work in order to #MAGA (Make America Great Again)! My promises are rapidly being fulfilled," Trump tweeted.
"After my tour of Asia, all countries dealing with us on trade know that the rules have changed. The United States has to be treated fairly and in a reciprocal fashion. The massive trade deficits must go down quickly!" he added.
The US president campaigned on a platform of bringing back jobs in the US, criticizing various deals made by his predecessor.
Details of the deals made by Trump during his trip to Japan, South Korea, China, Vietnam and the Philippines have yet to be released.
But in the joint statement issued by the Philippines and the US after the bilateral meeting of Trump and President Duterte, it was mentioned that the two leaders agreed to deepen the economic relationship of the long-time allies.
"The two leaders pledged to nurture economic ties, including private sector cooperation, to create jobs and opportunities for people in both countries. To this end, both sides will explore strengthening dialogues for innovation and sharing of best practices in technology to optimize the position of the Philippines as a preferred destination for American investments in the Asia-Pacific region," the joint statement read.
The statement said the US welcomed the Philippines' interest in a bilateral free trade agreement and that both sides agreed to discuss the matter further through the US-Philippines Trade and Investment Framework Agreement.
Trump also held meetings with Japanese Prime Minister Shinzo Abe, Australian Prime Minister Malcolm Turnbull and Indian Prime Minister Narendra Modi during his visit to the Philippines. – With Helen Flores, Janvic Mateo