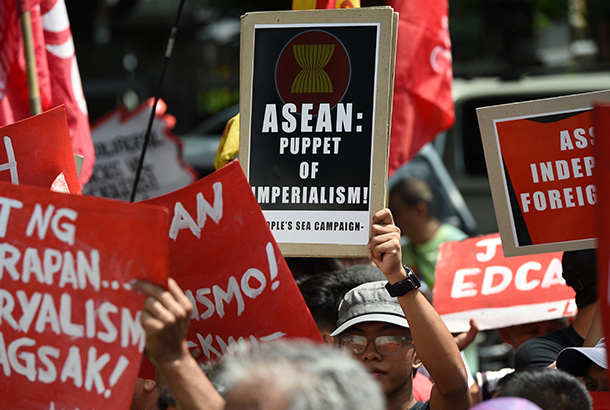 "If our foreign friends are seen disrupting the summit or engaging in any political activity, we have no choice but to deport them," Interior and Local Government officer-in-charge Catalino Cuy said. Ted Aljibe/AFP
Foreigners warned vs joining Asean protests
MANILA, Philippines — Foreign tourists and guests are warned against joining any mass action during the 31st Association of Southeast Asian Nations Summit or risk immediate deportation, the ASEAN Committee on Security, Peace and Order, and Emergency Preparedness and Response (CSPOEPR) said yesterday.
Interior and Local Government officer-in-charge Catalino Cuy, who is also CSPOEPR chairman, reminded them that they are not entitled to all the rights and privileges granted to Filipinos such as the exercise of political rights.
"If our foreign friends are seen disrupting the summit or engaging in any political activity, we have no choice but to deport them," Cuy said.
Addressing them, he said, "You are our guests so we will accord you hospitality and generosity. However, you are expected to give us the same respect that we give you by following our laws while you are (here)." ?
Earlier, the Bureau of Immigration issued Operation Order No. SBM-2015-025, which enjoins foreign tourists to observe the limitation on the exercise of their political rights during their stay in the country.
The same order states that they are prohibited from joining, supporting, contributing or involving themselves in whatever manner in any rally, assembly or gathering, whether for or against the government.
Some 16 million workers in the so-called informal economy will be gravely affected and displaced by traffic congestion, non-working holidays and disruptions created by the ASEAN meetings, labor organization Associated Labor Unions-Trade Union Congress of the Philippines (ALU-TUCP) said yesterday.
ALU-TUCP spokesman Alan Tanjusay said these "workers" are independent, self-employed, small-scale producers and distributors of merchandise and services.
"The non-working holidays, traffic lockdowns and clean-up drive for several days in Metro Manila, Bulacan and Pampanga to pave the way for security and traffic preparations days leading to the summit meant a severe loss of income for (them) whose livelihood subsistence revolves around schools, government and private offices," he said.
Tanjusay added that they are looking at lost income for "vendors, jeepney/pedicab/UV express and tricycle drivers, internet and photocopy clerks, canteen cooks and food servers who depend on (open government agencies), private companies and schools."
"The ASEAN is unknown to a majority of Filipinos and to all other citizens in (the region). (These) meetings are irrelevant to the masses because they have made these impenetrable to ordinary citizens," he said.
Contrary to ALU-TUCP's claim, Davao City Rep. Karlo Nograles said the country's hosting of the ASEAN summit will ultimately redound to economic prosperity.
"Investor confidence in the Philippines just went through the roof and with the ASEAN Summit, we can expect the country to receive a tidal wave of foreign investments and financial packages," Nograles said.
The chairman of the powerful appropriations committee in the House of Representatives believes Manila is "bound to receive even bigger economic deals" after President Duterte was dubbed the most trusted (Philippine) President in the last 20 years by an independent pollster.
"If there's one big worry among foreign investors and loaning institutions, it's the possibility that the money they fork out would get wasted due to corruption. They need not fear this under the current administration," Nograles said.
Rep. LRay Villafuerte is also confident Japan's recent financial aid to the Philippines amounting to at least $8.4 billion (P430 billion) bears in itself a stamp of approval by Prime Minister Shinzo Abe to the massive infrastructure programs and reform agenda of Duterte.
"It is clear proof that the Philippines is starting to reap the fruits of its unique foreign policy rebalancing since Duterte took over the reins of government last year," the Camarines Sur administration lawmaker said.
Presidential spokesman Harry Roque said Abe himself committed about a $6-billion investment in a subway system.
"This will be a tremendous help to the traffic problem in the country," the former Kabayan congressman said.
Deputy Speaker Raneo Abu said Duterte's high ratings are not surprising, noting that "the heart and soul of his good government is about building more hope and love for the country, working on long-term solutions to address the so-called ills of the nation."
"The increased approval and trust ratings are indications that President Duterte is doing what is best for the country. He will continue to excellently draw support from the public," said Quezon City Rep. Alfred Vargas, vice chairman of the House committee on appropriations.
Rallyists told to police own ranks
As 70 percent or 3,500 personnel of the Manila Police District (MPD) have been tapped to secure various places for the summit, leaving only a skeletal force to man the headquarters at UN Avenue and the different stations within the city, protesters were told to police their own ranks.
MPD spokesperson Supt. Erwin Margarejo said they are on full alert until Nov. 15 and their forces are ready to respond when necessary.
Margarejo said the police personnel are deployed in five-star hotels where the delegates are billeted and the streets where the heads of states are expected to pass.
National Capital Region Police Office chief Director Oscar Albayalde called on rallyists to police their ranks so they won't be infiltrated by individuals who intend to disrupt the meetings.
Albayalde assured protesters that they will be allowed to exercise their rights while the police will enforce maximum tolerance.
More than 150 medical teams have been dispatched by the Department of Health (DOH) to assist the delegates with their health needs.
DOH director for Health Emergency Management Services Gloria Balboa said 133 of the teams are in Metro Manila where a majority of the events are taking place this week.
Around 22 teams have been deployed to Clark International Airport where many of the delegates are landing.
Balboa added that the DOH has borrowed 21 high-end ambulances from private service providers.
PLDT, Smart support summit
PLDT Inc. and wireless subsidiary Smart Communications Inc. have boosted internet connectivity in locations which would serve as venues for the meetings.
"We at PLDT and Smart are closely coordinating with our key partners in government and the ASEAN50 organizing committee to provide the telecommunications and (information and communications technology) requirements that will help this Asean Summit achieve its objectives," Eric Alberto, PLDT and Smart executive vice president and chief revenue officer said in a statement.
"Our facilities and our teams on-ground have been preparing the necessary equipment to ensure that our services run smoothly and help ensure the success of all events," he added.
PLDT has installed fiber optic links and voice solutions to deliver as much as 11 Gigabits per second (Gbps) speed for the internet and WiFi requirements of the delegates and participants in the different venues.
In particular, it is boosting wired facilities to provide high-speed WiFi internet connectivity for the delegates at the Fontana Convention Center, Stotsenberg Convention Center, Royce Hotel and Quest Hotel in Clark, Pampanga.
Smart, meanwhile, is augmenting wireless coverage so mobile users in those areas can experience high-speed Long Term Evolution connectivity.
-– With Sheila Crisostomo, Delon Porcalla, Rey Galupo, Louella Desiderio