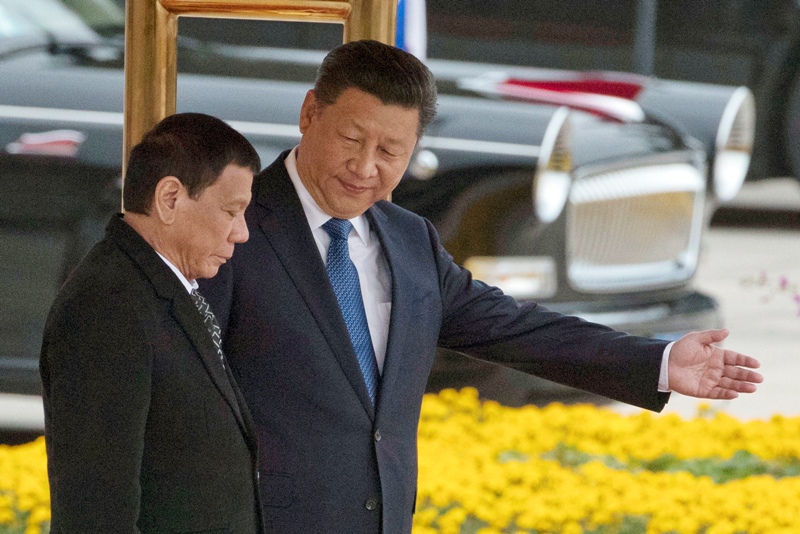 In this Oct. 20, 2016 photo, Chinese President Xi Jinping, right, shows the way to Philippine President Rodrigo Duterte during a welcome ceremony outside the Great Hall of the People in Beijing, China. AP/Ng Han Guan, File
Duterte trusts Xi's word that buildup in disputed sea is 'nothing'
MANILA, Philippines — Chinese President Xi Jinping has downplayed China's military build-up in the West Philippine Sea (South China Sea) and has dismissed the possibility of a war breaking out over the maritime dispute, President Rodrigo Duterte said Sunday.
Duterte said he mentioned the military buildup in disputed areas during his bilateral meeting with Xi in Vietnam last Saturday.
"I was talking about the military buildup, he says, 'no, it's nothing,'" Duterte told reporters at the Ninoy Aquino International Airport Sunday.
"He knows that if he goes to war, everything will blow up. He acknowledged that war cannot be promoted by anybody, but it would only mean destruction for all of us," he added.
Duterte is convinced that Xi would not sow conflict in the South China Sea because the Chinese leader is preoccupied with domestic issues.
"And I believe him because like me, he's worried about the health and the problem of his countrymen."
"We have the same problem. We share the same problem actually, governance," he said.
Duterte stressed that it is not the right time to confront China over the West Philippine Sea row.
"Are we prepared to go to war? We never surrendered anything. Just say, I do not want to talk about this for the moment. It is not time for aggression, it is not time for violence," the president said.
"We have so many problems domestic to take care of before we start to venture on some sort of an aggressive stand."
South China Sea 'better left untouched'
During the Association of Southeast Asian Nations Business and Investment Summit also Sunday, Duterte said the South China Sea is "better left untouched."
"China is the number one economic power and we have to be friends with them. Nobody can afford to go to war," he added.
China claims more than 90 percent of the resource-rich South China Sea but this is being disputed by the Philippines, Malaysia, Vietnam, Brunei and Taiwan. China has built artificial islands on Kagitingan (Fiery Cross), Panganiban (Mischief), Zamora (Subi), Burgos (Gaven), Kennan (Hughes), Mabini (Johnson) and Calderon (Cuarteron) Reefs, areas located off the western province of Palawan that are also being claimed by the Philippines.
Satellite photos revealed that China has installed radar systems and barracks and has built airstrips in the disputed areas, fueling suspicions that the Asian superpower will use the islands to control the South China Sea.
China has allayed fears that it is militarizing the disputed areas and claimed that it is one with all claimants in maintaining stability in the region.
Duterte has expressed readiness to temporarily set aside the maritime dispute to improve the Philippines' ties with China. But he vowed to bring up the issue before Chinese leaders within his term.
Critics have accused Duterte of being too cozy with China and disregarding the Philippines' maritime claim in exchange for assistance from the Chinese government. Duterte has denied this, saying he would not turn his back on the Philippines' interests in the West Philippine Sea.
Duterte said Xi was surprised by his very strong statement that he would be frank about the maritime dispute.
"I said I am not raising any sovereign issue. Do not worry… I had to do it because the Philippines chairs the ASEAN now," he added.
"I cannot escape that from my duty. We are the—so I have every right to ask him/ But I explained it to him in a very nice way that it was all—that was all the rest of it."
Duterte said Xi has given him assurance that the Philippines would have "all the rights of the safe passage."
The Philippine leader believes that the arbitration ruling that favored the Philippines does not mean anything to anybody except China and the Philippines.
"These contesting parties or countries are not parties of interest in the case. They do not care about it. It's about you and China. Do not drag us down with your claim and expand the jurisdiction because we are not bound by it," Duterte said
"If you want, you can file another arbitration between us and what country do you have in mind. It's going to be very messy for the Philippines to handle that," he added.
Last year, a Hague-based arbitral tribunal based in Hague ruled that China's expansive maritime claim in the South China Sea has no legal basis but the Chinese government refused to recognize the ruling. The ruling stemmed from a complaint filed by the Aquino administration in 2013.
"So even if you get a victory by what? By war? Then you have another one going to the arbitration court," Duterte said.
"So there's only one remedy and you know what it is. Can we afford it? And even the powers all over the world, they are very careful with that. And if we want to enforce it, by what means?"
Duterte said Xi mentioned about holding a meeting about the rules of conduct but stressed that it has nothing to do with sovereignty.
"If you go to the negotiating table and you start with the statement "that I am here to claim validity of our ownership," you're wasting your time. They will not talk about it," he said.
"And, you know, we are almost fined-tuned to the realities of the moment. But there will always be a time, I said, that we have to talk about this. The Philippines and China minus everybody."
"You think we can handle it? And if we win, still, can we enforce it?"
'Bright future'
Duterte said he upbeat about the relationship between the Philippines and China but clarified that it would not involve a military alliance.
"I see a very bright future for our relationship. Nothing to do with military. I have stated before and I was not lying, I would not entertain talks about military or anything except that I had to thank Mr. Xi Jinping for the timely and crucial help that he extended to our country when we were fighting the siege of Marawi," he said, referring to the firearms donated by China.
Duterte said Xi also confirmed China's promise to help the Philippines build two bridges that would span the Pasig River.
"He (Xi) said the project would start immediately," he said.
"Everything went smoothly and the President of China said that he would honor what he promised."
Duterte said the Philippines would be honored if the China leader agrees to visit the country.
"I was also given again an invitation to go back to China whether as a friend, official, not official visits," he added.