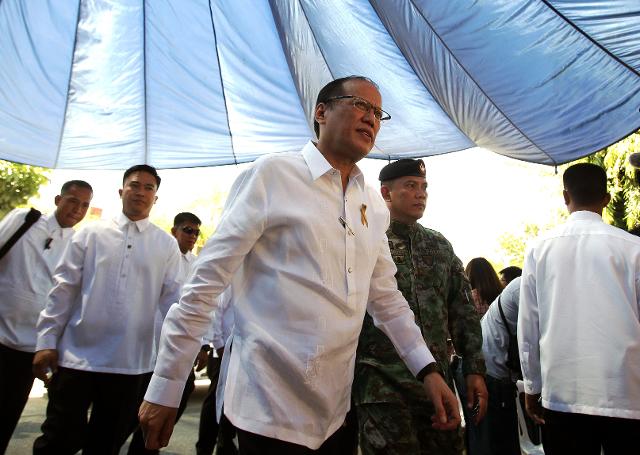 In this March 4, 2015 file photo, then President Benigno Aquino III arrives to attend the Assumption of Command Ceremony of the Philippine National Police Special Action Force (SAF) at Camp Bagong Diwa, Taguig, Philippines, on Wednesday March 4, 2015. AP/Aaron Favila
Sandiganbayan finds grounds for Noynoy Aquino trial
(Philstar.com) - November 10, 2017 - 10:07am
MANILA, Philippines — The Sandiganbayan's Third Division found probable cause to hold trial on the Office of the Ombudsman's graft and usurpation charges against former president Benigno Aquino III.
Clerk of Court Dennis Pulma confirmed this on Friday shortly after Aquino, accompanied by his sisters, posted bail for the case in connection to the botched raid in Mamasapano that led to the deaths of 60 people, including 44 police commandos. The 2015 fiasco was the largest single-day loss for the government in the past decade.
Pulma said a warrant of arrest against Aquino has been signed by justices of the Third Division, but it was no longer released after the P40,000 bail bond posted.
Ex-Pres. Noynoy Aquino arrives at Sandiganbayan to post P40K bail bond for his graft & usurpation cases over Mamasapano incident @PhilippineStar pic.twitter.com/RKdbuD8IVV

— Elizabeth T. Marcelo (@marcelo_beth) November 10, 2017
Along with the arrest order, the court also issued a hold departure order to prevent Aquino from leaving the country.
The anti-graft court set the arraignment and pre-trial on Jan. 12, 2018.
The charge stemmed from the complaint filed by non-government organization Volunteers against Crime and Corruption. The advocacy group, aligned with President Rodrigo Duterte, wanted Aquino indicted on reckless imprudence resulting in multiple homicide.
RELATED: Aquino charged before Sandiganbayan over Mamasapano
The Ombudsman, in its July resolution, said that it found "no probable cause" to charge the former president with reckless imprudence and instead charged him for acting "in conspiracy" with then police chief Alan Purisima despite the latter's temporary suspension from service.
The Ombudsman, in its June 2017 decision, cited the meetings and text messages between Aquino and Purisima as indication that the former president allowed him to play a "major role" in what would be a disastrous operation supposedly to serve a warrant against two top terrorists in the Maguindanao town.
ALSO READ: Aquino appointee set to handle his Mamasapano cases
Aquino called the Ombudsman's accusations as "patently erroneous and bereft of any merit," citing a mismatch of facts. — based on reports from Elizabeth Marcelo