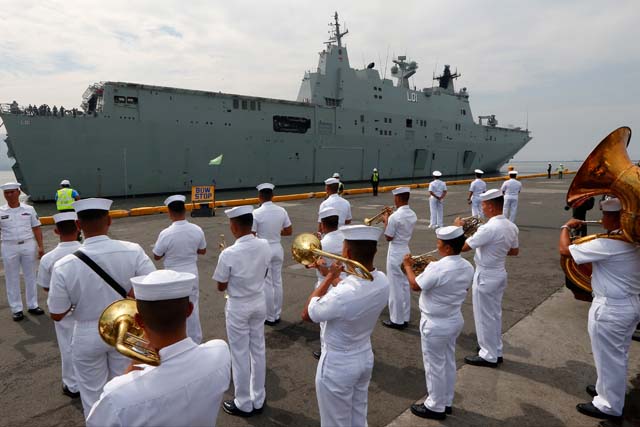 A Philippine Navy band plays to welcome the Royal Australian Navy HMAS Adelaide, an amphibious assault ship and landing helicopter dock, as it docks in the South Harbor for a five-day port call, Tuesday, Oct. 10, 2017, in Manila, Philippines. The visit of the HMAS Adelaide, along with another Australian Navy ship, the HMAS Darwin, a guided missile frigate, is aimed at strengthening relations between the two navies as well as provide maritime security and stability in the region. AP/Bullit Marquez, file
Philippine, Australian navies launch joint security exercise
Roel Pareño
(philstar.com) - November 10, 2017 - 6:24am
ZAMBOANGA CITY, Philippines — The Philippine Navy and Royal Australian Navy launched a joint maritime exercise on Friday to boost security along the country's southern borders.
The Australian navy's HMAS Larrakia and HMAS Maitland arrived in Zamboanga City port Friday morning straight from Papua New Guinea.
The Larrakia and Maitland, skippered by RAN Commander Mitchell Edwards and RAN Lieutenant Jonathon Little respectively, are Armidale-class patrol boats that are deployed to perform a wide variety of missions and tasks.
The two RAN warships, with a crew complement of 21 each, were welcomed by Rear Admiral Rene Medina of Naval Forces Western Mindanao, Australian Ambassador to the Philippines Amanda Gorely and Australian Defense Attache Bradly Ian White, and Mayor Maria Isabelle Climaco-Salazar with some local council members.
Gorely said the joint maritime security operation is part of enhanced defense cooperation between the two countries.
Defense Secretary Delfin Lorenzana and Australian Defense Minister Marise Payne agreed on closer defence cooperation during her visit to the Philippines last month.
Gorely said Payne's visit, which was the second in recent months, underscores the importance of the defense relationship between the two countries.
"Australia and the Philippines has a shared responsibility in combating the threat post by global terrorism," Gorely said.
Australian AP3C Orion surveillance planes supported the Armed Forces of the Philippines against terrorist groups in Marawi City. Although the crises was declared over in October, mopping up and clearing operations continue.
Rear Admiral Medina said the first leg of the actual maritime patrol will be held near the Pearl Bank off Tawi-Tawi, an area where pirates affiliated with the Abu Sayyaf group operate.
The second leg will be held between Zamboanga and the Moro Gulf.
Patrol ships BRP Dioscoro Papa and BRP General Mariano Alvarez, landing platform dock BRP Davao del Sur, and patrol craft BRP Emilio Liwanag will be deployed for the exercise.
Medina said the joint maritime exercise is an offshoot of a passing exercise between the HMAS Parramatta and BRP Ramon Alcaraz in the Sulu Sea in September.