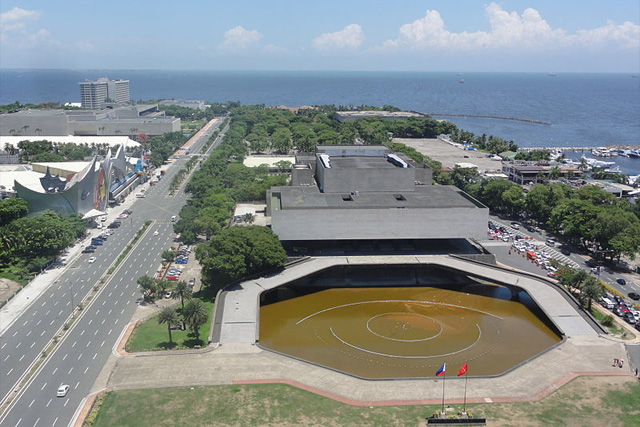 Top view of the Main Theater of the Cultural Center of the Philippines (CCP) along Roxas Boulevard, CCP Complex, Pasay City as of June 2015. Wikipedia / Patrick Roque
LIST: Lockdown schedules, lanes for ASEAN Summit
(Philstar.com) - October 29, 2017 - 9:54am
MANILA, Philippines — The Interior and Local Government on Sunday announced that they would implement lockdown and there would be affected roads during the conduct of the Association of Southeast Asian Nations (ASEAN) Summit in November 2017
DILG Officer-in-Charge Catalino Cuy, who is also the concurrent chairperson of the ASEAN Committee on Security, Peace and Order, Emergency Preparedness and Response (CSPOEPR), sought for public's understanding amid the scheduled lockdown and road closures.
"With less than two weeks before the event, I urge the public to steer clear of said lockdown areas so that they will not be trapped just in case there is a passing a convoy," Cuy said.
Cuy also advised the motorists and land travelers to refrain from passing through the North Luzon Expressway and EDSA as stop and go scheme would be implemented every time an ASEAN convoy passes through these two major highways.
The DILG said for the lockdown period, pedestrians and vehicles without ASEAN IDs and decals would be allowed to enter the ASEA routes provided that they pass through the vehicle and pedestrian security areas.
On the other hand, on days with full lockdown schedule, only pedestrians and vehicles with ASEAN IDs and decals would be allowed to pass while the general public will be denied access to these routes.
Cuy also asked the local chief executives of Metro Manila and Region III to provide support to the ASEAN delegates. He requested the local government units to remove unwanted elements on the streets that would create more traffic, and display information, education and communication materials that express support for ASEAN.
The acting DILG chief thanked LGUs that responded to the logistical needs of the ASEAN Summit.
Earlier, President Rodrigo Duterte declared November 13 to 15 special non-working days for for the National Capital Region, Pampanga and Bulacan.
Here is a list of the lockdown schedules and ASEAN routes which may affect traffic in November.
November 8 (12:01 AM onwards) - Partial lockdown of CCP Complex, Pasay City November 11 (10:00 PM onwards) - Complete lockdown of SMX-MAAX Block, Pasay City

November 12 (12:01 AM onwards) - Complete lockdown of CCP Complex, Pasay City

November 13 (12:01 AM onwards) - Total lockdown of Roxas Boulevard starting from Padre Burgos Ave. to Buendia Ave., Manila

November 13 (12:01 AM onwards) - Partial lifting of lockdown at SMX-MAAX Block, Pasay City

November 13 (12:00 NN onwards) - Lifting of lockdown for Roxas Blvd. (Padre Burgos Ave. to Buendia Ave., Manila)

November 14 - Continuous lockdown of CCP Complex, Pasay City

November 15 (12:00 NN onwards) - Partial lifting of lockdown for CCP Complex, Pasay City
—Rosette Adel