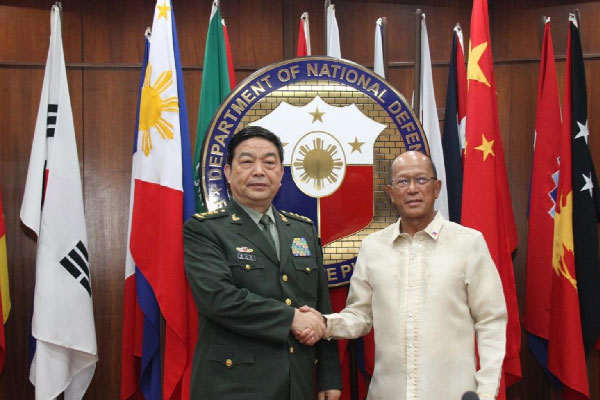 Defense Secretary Delfin Lorenzan receives Chinese Defense Minister Ge Chang Wanquan at the Department of National Defense. They held a bilateral meeting on Oct. 25, 2017 in an effort to enhance the security and defense ties of the two nations. DND/Released
Philippines, China agree to strengthen defense ties
Jaime Laude
(The Philippine Star) - October 25, 2017 - 4:00pm
MANILA, Philippines — The Philippines and China agreed in bilateral defense talks yesterday to strengthen defense and military-to-military relations by increasing security engagements to include enhancement of maritime cooperation as well as to peacefully resolve existing maritime and territorial disputes between the two countries.
This agreement came up following a meeting between Defense Secretary Delfin Lorenzana and his visiting Chinese counterpart Gen. Chang Wanquan at Camp Aguinaldo.
Defense spokesman Arsenio Andolong said most significant in the talks was the South China Sea issue where both defense chiefs declared the prevailing tension decreased due to the warming relations between Manila and Beijing.
"Both defense chiefs welcomed the decrease of tensions between the two countries through careful management of the dispute," Andolong said.
Andolong said both defense chiefs are looking forward to putting into action the proposals to develop a concrete mechanism to immediately solve issues and disputes between the two countries.
China and the Philippines have an existing maritime row over portions of the South China Sea brought about by Beijing's nine-dash line maritime and territorial claim covering almost the entire South China Sea, including the territorial waters of other claimant countries.
Chang is in the country as a participant in the just-concluded ASEAN Defense Ministers Meeting-Plus (ADMM-Plus) held at Clark Field, Pampanga.
Andolong said yesterday's meeting also centered on the enhancement of cooperation in the fight against terrorism and violent extremism, especially in intelligence sharing, joint counter-terrorism exercises and other specialized training.
"Both defense chiefs underscored the need for the two countries to cooperate in order to eradicate the evils of terrorism which they consider a common enemy," Andolong said.
Lorenzana took the opportunity to thank Chang for China's logistical support in the anti-terror operations in Marawi City.