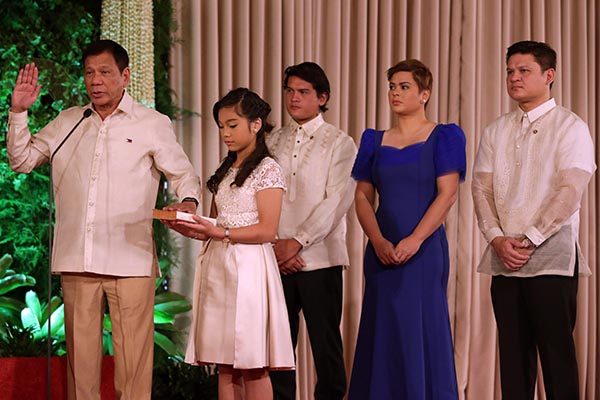 President-elect Rodrigo Roa Duterte takes his Oath of Office as the 16th President of the Republic of the Philippines with his children standing at his back as witnesses. Supreme Court Justice Bienvenido L. Reyes administers his oath. Presidential Photographers Division/Released, file
Duterte's children calls for unity among Filipinos
MANILA, Philippines —The children of President Rodrigo Duterte on Monday urged the public to unite amid the political division in the country.
"Pare-pareho naman tayong Filipino lahat so kung mag-aaway tayo na hindi naman productive… wala namang maitutulong sa bansa natin 'yun diba so anong punto noon? (We are all Filipinos so if we will argue over something unproductive…it will not help are country, so what's the point?)" Sebastian "Baste" Duterte, youngest son of the president, said in a recorded ambush interview.
"Kaysa mag-away tayo, ba't 'di na lang tayo magkaisa para tulungan 'yung bansa natin? (Instead of fighting, why can't we just unite to help our country?) that's it," he added.
Baste made the statement during the launch Tapang at Malasakit Alliance for the Philippines, which seeks to gather support for government campaigns like the rehabilitation of Marawi City.
The president's daughter, Davao City Mayor Sara Duterte, on the other hand, led the launching of the pro-Duterte group. She and organizers hoped the alliance would greatly help the president answer critics and deliver his message of unity and dedication to service and hard work.
READ: Duterte supporters launch Tapang at Malasakit Alliance
Sara said she believes in dissent as it is a "facet of democracy" but she opposed the criticisms which just intend to smear the names of the ruling officials in the country.
"It is a different matter altogether if you lie just to oppose and paint to the world a sad and hopeless Philippines," Sara said in her speech.
"Our President is human, very imperfect, but hes a wrangler. We only have 6 years to take advantage of his aggressive spirit, and use him to create a better future for our country. We should all rally behind our government and focus on the task of turning this country into a globally competitive player in the region," she added.
Sara appealed to the supporters of her father to unite and allow the president's vow of change to happen.
Both Baste and Sara said they welcome the varying opinions of the president's supporters and opposition members but they call on them to unite for the country.
Sara said unity may start by helping in fighting global terrorism and rebuilding of war-torn Marawi City as well as focusing on poverty which she claimed "has fueled narco-politicians."
"Set aside our personal politics that has torn our country every time we have a new President. ??Make our respective groups, a positive voice in our communities. Let us stand together for our country," Sara said.