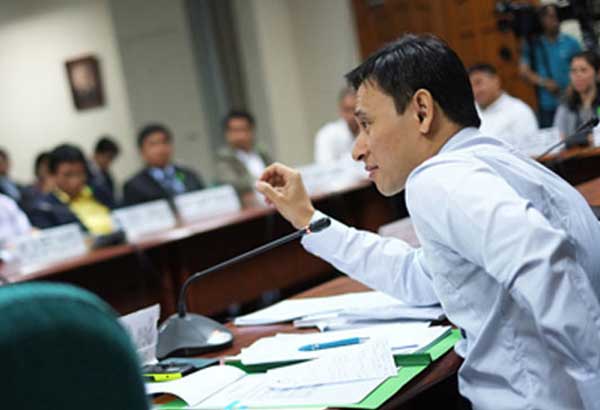 Sen. Sonny Angara, vice chairman of the Senate finance committee, said the allocation of P10 million for each SUC would enable all of them to upgrade infrastructure and equipment in preparation for the implementation of the law on Universal Access to Quality Tertiary Education. File
State universities, colleges to get P120 M for upgrade
Paolo Romero
(The Philippine Star) - October 22, 2017 - 4:00pm
MANILA, Philippines — To support the implementation of free tuition in state colleges and universities, these SUCs will have an across-the-board increase in capital outlay of P10 million each in the proposed P3.7-trillion national budget for 2018, Sen. Sonny Angara said yesterday.
Angara, vice chairman of the Senate finance committee, said the allocation of P10 million for each SUC would enable all of them to upgrade infrastructure and equipment in preparation for the implementation of the law on Universal Access to Quality Tertiary Education.
Under the Senate version of the proposed national budget for next year, the Commission on Higher Education (CHED) has been allocated a budget of P12.067 billion for capital outlay (CO), P1.354 billion more than the budget allocated by the House of Representatives in the 2018 General Appropriations Bill (GAB).
The CHED budget includes the P10 million across-the-board increase in CO of 110 SUCs plus satellite campuses MSU-Iligan Institute of Technology and MSU-Tawi-Tawi and 11 campuses within the University of the Philippines system.
"We want to make sure that SUCs will not only have enough budget to implement the free tuition, but also funds to implement priority infrastructure projects and equipment upgrades to boost their capacity to provide quality higher education," Angara said.
The proposed appropriation for SUCs in 2018 is P59.779 billion, or 1.81 percent higher than the 2017 appropriations of P58.718 billion.
The bulk or 63.85 percent of SUCs' budget will be used for Personal Services. Maintenance and other operating expenses account for 15.97 percent while CO will make up 20.19 percent mainly to construct/rehabilitate buildings and facilities, and acquire necessary equipment.
Sen. Loren Legarda, chair of the finance committee, said while the Senate gave additional funds to the SUCs CO, it also ensured funding for training, seminars and scholarship programs for further studies of teachers.
"Our students and our country stand to benefit from the academic pursuits of our teaching personnel. We should be supportive of this because as they enrich themselves, they have more to impart and give back to the society," Legarda said.
She said the Senate has also increased teachers' chalk allowance – intended for the purchase of classroom supplies like chalk, markers, paper, erasers and other materials – to P3,500 for 2018.
Senate President Pro Tempore Ralph Recto pushed for the rechanneling of some provisions in the proposed budget of the Department of Education (DepEd) which can be used to increase a number of teacher's allowances.
"If these 'benefit amelioration' items will be added to the income retained when bigger personal income tax exemptions will take effect, the result is a higher take-home pay for public elementary and high school teachers," Recto said.
"We can double the chalk allowance, increase the uniform allowance, implement so-called step increments so that teachers will move up the pay scale, and increase the operating fund of schools," he added.