Int'l lawmakers group calls for De Lima's release
October 20, 2017 | 6:18am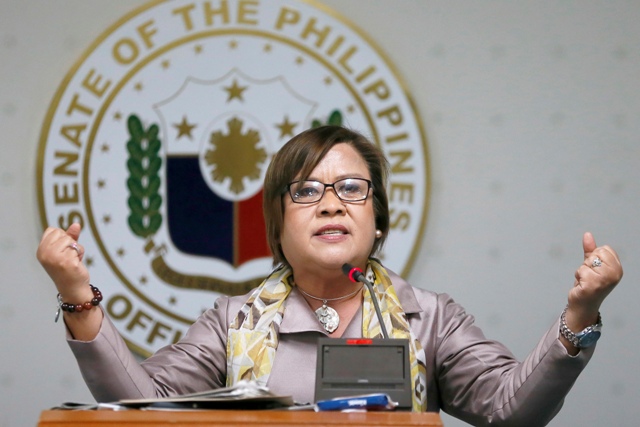 MANILA, Philippines — An international lawmakers groups has called for the immediate release of detained Sen. Leila De Lima, stressing that her criminal case is a "response" to her "vocal opposition" to President Rodrigo Duterte.
Members of the Geneva-based Inter-Parliamentary Union personally trooped to the Philippines May this year to conduct a fact-finding mission on De Lima's drug cases and detention.
In its report published on October 18, the IPU called on "relevant authorities to release [De Lima] immediately and to seriously consider abandoning the legal proceedings should serious evidence not rapidly be forthcoming."
It added that its mission report "shows that the steps taken against [De Lima] came in response to her vocal opposition to President Duterte's war on drugs, including her denunciation of her alleged responsibility for the extrajudicial killings, and that there is no evidence to justify criminal cases against her."
De Lima vs Duterte
The monitoring agency noted that the two officials have been in loggerheads since De Lima's stint as Chairperson of the Commission on Human Rights from May 2008 to June 2010. The senator launched a series of investigations to probe the alleged extrajudicial killings under the watch of Duterte, who was then mayor of Davao City.
De Lima became the Secretary of Justice in 2010, and won a senatorial seat in the May 2016 national elections. Two months after she become a senator, she initiated an inquiry into the extrajudicial killings since Duterte became president on June 2016.
It was also around August 2016 that solons from the Lower House of the Congress sought to start a probe on the alleged drug proliferation under De Lima's watch as justice secretary.
Transcripts of the said inquiry were used by groups of complainants who filed drug trading case against De Lima before the Department of Justice--now headed by Vitaliano Aguirre II.
De Lima has maintained her innocence from the allegations and claimed that the Duterte administration is using its full resources to pin her down in trumped up charges.
De Lima shamed as a woman
"Senator De Lima has been subject to a public campaign of vilification by the highest State authorities portraying her as an 'immoral woman' and as guilty, even though a trial has yet to commence," the IPU noted.
It can be recalled that several Congressmen gleefully noted in public interviews that the alleged sex tape of De Lima be shown in their committee inquiries. The solons earlier said that the video will prove De Lima's "connection" with Ronnie Dayan, her former aide and also suspected to be her bagman.
READ: Leni Robredo says solons harassed, slut-shamed De Lima
The IPU expressed "shock at the public campaign of vilification by the highest state authorities against Sen. De Lima portraying her as an 'immoral woman.'"
Duterte, in his tirades, has repeatedly slut-shamed De Lima for allegedly having an affair with her former aide. He was quoted as saying: "Susmaryosep. You know, every time I view the video, I lose my appetite."
The monitoring body said that it "regrets that the Supreme Court has still to rule on this matter, thereby missing an important opportunity to end and condemn the public degrading treatment to which she has been subject as a women parliamentarian."
The IPU added that it "calls on the Supreme Court to rule on this matter as quickly as possible."
De Lima drug case
Three counts of illegal drug trading have been filed against De Lima in three salas before the Muntinlupa Regional Trial Court on February 17.
Six days later, Muntinlupa RTC Branch 204 issued a warrant of arrest against De Lima. Executive Judge Juanita Guerrero said that the "Court finds sufficient probable cause for the issuance of Warrants of Arrest" for De Lima.
The senator sought the Supreme Court for the nullification of the arrest, but her petition was dismissed due to lack of merit on October 10.
Senior Associate Justice Antonio Carpio, in his dissenting opinion, called the SC's ruling as "one of the grossest injustices" in recent memory as he condemned the "fake charges" against De Lima.
The monitoring agency echoed Carpio's opinion, saying that it "regrets that the Supreme Court did not see fit to nullify her arrest in the case pending before RTC Branch 204."
READ: SC votes 9-6 to junk De Lima petition to nullify her arrest
The IPU said that it "trusts the Court will give full consideration to the arguments presented by Sen. De Lima and her lawyers in her motion for reconsideration."
De Lima's camp, headed by ex-Solicitor General Florin Hilbay, said that it will file a motion for reconsideration in her case.
It can be noted that four justices voted to junk De Lima's petition for being "premature," citing De Lima's pending motion to quash at the RTC and a separate petition at the Court of Appeals.
De Lima's motion to quash before the Muntinlupa RTC Branch 205 has already been dismissed, while the case before RTC Branch 206 remains on hold.
The IPU said that it will send "a trial observer to monitor and report on respect the fair trial standards in the case before the RTC Branch 205, should the trial proceed."
The international organization previously said it was "deeply concerned De Lima's arrest, detention and accusations levied against her."
IPU was established in 1889. It "works for peace and co-operation among peoples and for the firm establishment of representative democracy."
READ: SC decision legitimizes political persecution, says De Lima