Inter-Parliamentary Union panel visits detained De Lima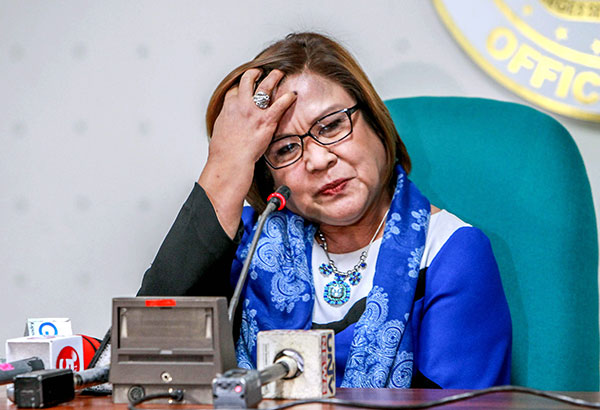 MANILA, Philippines — Detained Sen. Leila De Lima has thanked the members of the Inter-Parliamentary Union for reviewing her drug cases and detention.
"I am really honored and thankful to the members of the IPU Committee on the Human Rights of Parliamentarians, led by Fawzia Koofi (Afghanistan), Fazle Karim Chowdhury (Bangladesh) and Rogier Huizenga, manager of IPU Human Rights Programme for visiting me today to check on my condition and assess the cases filed against me," De Lima said in a dispatched statement from Camp Crame.
The Geneva-based international monitoring body arrived in Manila on Monday to pursue its fact-finding mission on De Lima's drug cases and detention. The organization visited De Lima on Wednesday.
'Review of case gives me hope, encouragement'
According to De Lima, IPU's visit is a proof that the world is watching. She discussed with them her petition to be allowed to participate in the voting on major legislative measures in the Senate, such as opposing the re-imposition of the death penalty.
"As I mark my 90th day in detention, meeting with the IPU delegates and talking about various matters with them gives me hope and encouragement," she said.
"I assured them that even though I am detained and despite this government's relentless attacks against me, I will continue to fight for what is just and right; that I am doing all that I possibly can to continue fulfilling my duty as sitting Senator of the Republic of the Philippines," the senator added.
After the IPU visit, De Lima encouraged the public to continue calling out the Duterte administration.
"Let us continue calling the Duterte regime to stop the extrajudicial killings in the Philippines, to stop violating our Constitution and our fundamental human rights, and to stop killing our democracy," De Lima said.
Aside from De Lima, the IPU Committee on Human Rights also visited Senate President Aquilino "Koko" Pimentel III, Senate Majority Leader Vicente "Tito" Sotto III, Sen. Panfilo Lacson, and other government officials to gather first-hand information regarding De Lima's case.
The international organization previously said it was "deeply concerned De Lima's arrest, detention and accusations levied against her."
IPU was established in 1889. It "works for peace and co-operation among peoples and for the firm establishment of representative democracy."