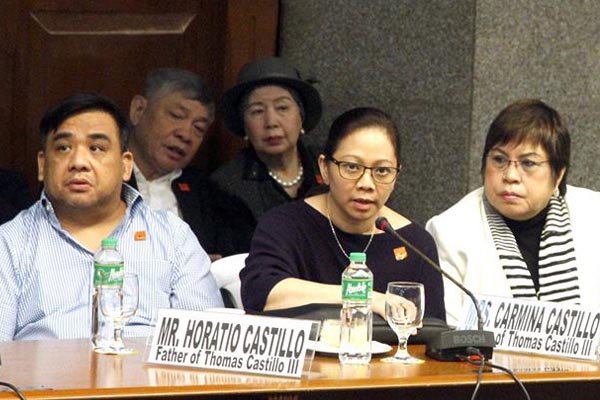 " You have his eyeglasses, you have his watch--those are important to us. Those were his last things that I want," Carmina Castillo tells Aegis Juris Fraternity members during the Senate inquiry on the death of her son, Atio Castillo III. Romeo Bugante/Senate PRIB
Atio's parents to fratmen: Return our son's belongings
(philstar.com) - October 18, 2017 - 6:52am
MANILA, Philippines — The grieving parents of Horacio "Atio" Castillo III were face-to-face with members of the Aegis Juris Fraternity on Wednesday at the Senate.
Addressing the fraternity members who are believed to have performed the brutal initiation rites on her son, Carmina Castillo said: " Tell me what happened during those time, those days, you have to answer for all of that."
She also told the members present at the Senate to return Atio's personal items.
"You have his eyeglasses, you have his watch — those are important to us. Those were his last things that I want," Carmina said while looking pointedly at the fraternity men.
Horacio Castillo II, who was sitting beside his wife, was visibly distressed.
"Bring it back," he said.
Solano's statement disclosed
Sen. Panfilo Lacson, during the start of the probe, noted that the members of the fraternity sent summonses were all present for Wednesday's inquiry.
Lacson heads the Senate committee on public order and dangerous drugs that is currently conducting a probe on the death of Atio.
The inquiry also made public the transcript of John Paul Solano's testimony that was earlier recorded in an executive session with lawmakers.
Solano, among the primary suspects in the case, brought Atio's body to the Chinese General Hospital after claiming that he found the body along a sidewalk at Balut, Tondo. It was later revealed that Solano is also a member of the fraternity.
Named in the Solano's testimony are OJ Onofre, Axel Hipe, Mark Ventura and Arvin Balag, believed to be the head of the fraternity.
Also revealed in the inquiry were Facebook conversations among members and alumni members of the Aegis Juris Fraternity discussing how to bring Atio's body to the hospital and how to reveal to the Castillo couple what happened to their son.
Balag was eventually cited in contempt by the Senate after he repeatedly refused to answer Sen. Grace Poe's question on his position in the fraternity.
After Lacson adjourned the inquiry, Balag was escorted outside the hearing room. He will be detained at the Senate.
The Senate goes on legislative break on Friday, October 20 and will resume its session on November 13.