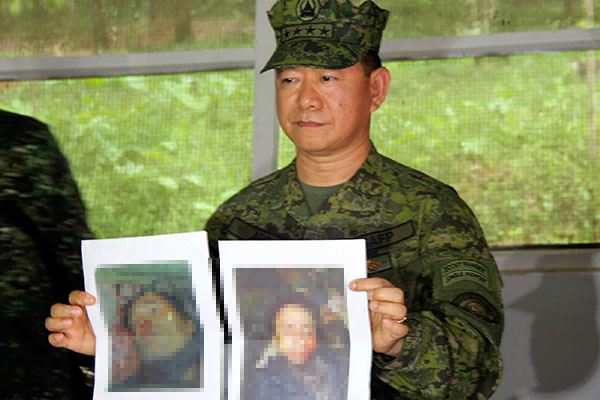 In this photo released by the 4th Civil Relations Group, Civil Relations Service Armed Forces of the Philippines, Philippine military chief Gen. Eduardo Año holds pictures of dead militant leaders during a press conference at a military camp in Marawi, southern Philippines on Monday, Oct. 16, 2017. The last two surviving leaders of a deadly siege in the southern Philippines, including a top Asian terror suspect, were killed Monday in a push by thousands of troops to retake the last pocket of Marawi city still held by pro-Islamic State militants, top security officials said. Officials said that Isnilon Hapilon, who is listed among the FBI's most-wanted terror suspects, Omarkhayam Maute were killed in a gunbattle and their bodies were found Monday in Marawi. 4th Civil Relations Group, Civil Relations Service Armed Forces of the Philippines via AP
Armed Forces: Islamist militants in Marawi down to 30
(Associated Press) - October 16, 2017 - 2:09pm
MANILA, Philippines — Armed Forces chief Eduardo Año Monday said around 30 pro-ISIS group militants, including fewer than eight foreign fighters, remain in the main battle area in Marawi City.
Año told reporters that 22 hostages and some 39 relatives of the militants also remain in the area.
Año said the killings of Hapilon and Maute removed the "center of gravity" of a number of other ISIS-linked groups elsewhere in the south.
"This is the end ... they will all start to crumble," he said.
Maute and three of his siblings, who also have been reportedly killed in the Marawi clashes, belonged to an ISIS-aligned militant alliance in Southeast Asia which Hapilon headed. Hapilon once belonged to the brutal Abu Sayyaf extremist group and later shifted to the ISIS-linked alliance of about 10 small militant groups.
Año said the foreign fighters still in the battle area include top Malaysian militant Mahmud bin Ahmad and some other Malaysian and Indonesian extremists. Mahmud uses the nom de guerre Abu Handzalah and is a close associate of Hapilon.
He said 20 hostages were rescued Monday, including a 2-month-old baby girl born while her mother was in captivity. They bring to 1,771 the total number of hostages recovered since the start of the crisis.
Local assemblyman Zia Alonto Adiong said that with the death of two militant leaders involved in the siege, the eagerness of the more than 390,000 displaced residents to return home is mounting.
Adiong, also the spokesman of the provincial crisis committee, said: "The eagerness of the people to return to their homes is there because this is a signal that the war is about to end.
He said with the militants now leaderless, he expects their morale to plummet and a substantial number of fighters to surrender.
___
Editor's note: Philstar.com has pixelized the photos of the militant leaders.