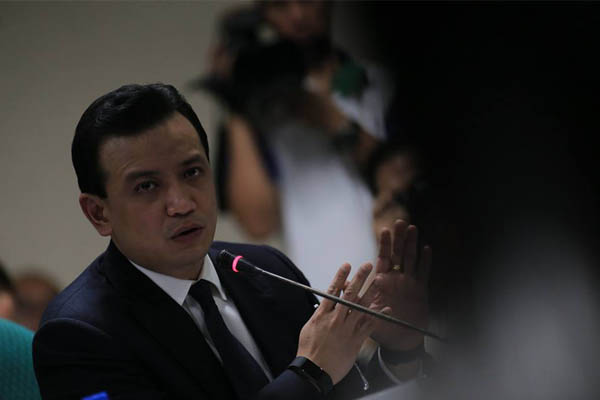 In a Facebook post, Davao City Mayor Sara Duterte alleged Tindig Pilipinas supporters Sens. Antonio Trillanes IV, Francis Pangilinan and Risa Hontiveros of being "hypocrites" and "opportunists" for criticizing her father even after seeking his political support during the last elections. Senate of the Phippines/Joseph Vidal
'I didn't know your father was a thief, killer,' Trillanes tells Sara
(The Philippine Star) - October 11, 2017 - 4:00pm
MANILA, Philippines — Sen. Antonio Trillanes IV on Thursday slammed Davao City Mayor Sara Duterte for calling him an "opportunist" for seeking the support of President Rodrigo Duterte before the 2016 elections.
In a statement, Trillanes admitted he sought Duterte's endorsement when he ran for vice president.
"Ang mga panunumbat ni Mayor Sara Duterte ay nung hindi ko pa kilalang mamamatay-tao at magnanakaw ang tatay niyang si Pres. Duterte. Iba na ngayon, alam ko na ang katotohanan (At that time, I didn't know your father was a thief and a killer. Things have changed now because I already know the truth)," Trillanes said.
Duterte is linked to vigilante group Davao Death Squad, which is responsible for the death and disappearance of thousands.
Trillanes, one of the fiercest critics of the president, also said that it is easier to be an "opportunist" around Duterte than to criticize him.
In a Facebook post, Sara alleged Tindig Pilipinas supporters Trillanes, Sens. Francis Pangilinan and Risa Hontiveros of being "hypocrites" and "opportunists" for criticizing her father even after seeking his political support during the last elections.
READ: New group opposing EJKs launched
She also called Tindig Pilipinas "Hunger Games Pilipinas," referring to the popular movie in which players kill each other until only one remains.
"Matanong ko lang, nung mga panahon na humingi kayo ng tulong, may isyu ba kayo sa governance ni PRD? Wala. Ngayon na nanalo na siya? Meron. (When you asked for my father's support, did you have issues regarding his governance? None. But when he won the presidency? You have issues)," Sara said.
Trillanes then asked Sara when will the first family sign a bank secrecy waiver to prove they are not corrupt.
The senator accused the executive of having unexplained hidden wealth and repeatedly challenged him to sign a bank secrecy waiver to allow investigators to probe into his bank records, in Duterte repeatedly refused.
The Office of the Ombudsman last month vowed it would continue its investigation into Duterte's alleged clandestine wealth despite his threat that he would form a commission to investigate the supposed anomalies in the anti-graft agency.?
READ: Trillanes 'vindicated' after ombudsman finds his complaint sufficient