Speaker to CJ: Resign or be impeached
October 11, 2017 | 4:00pm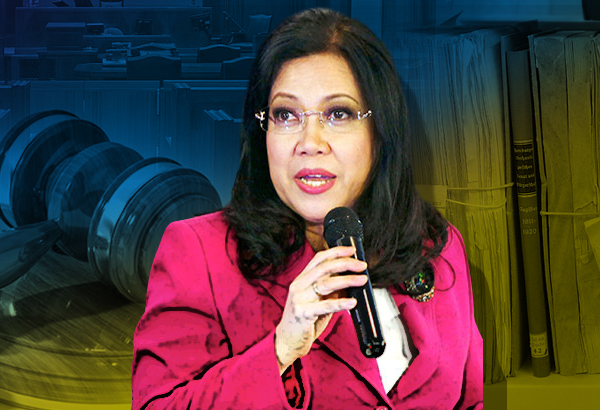 MANILA, Philippines — Speaker Pantaleon Alvarez urged Chief Justice Maria Lourdes Sereno last night to resign to avoid a Senate impeachment trial.
He made the call in a radio interview minutes after the House of Representatives, in a swift turn of events, voted to impeach Commission on Elections Chairman Andres Bautista, reversing the dismissal of the complaint against him by the committee on justice.
"We have a stronger case against the Chief Justice. We have complete documents. If there is something she doesn't want to be exposed, she should resign," Alvarez said.
He said the evidence against Sereno on her alleged failure to declare some of her assets in her statement of assets, liabilities and net worth is not as strong as that against the late chief justice Renato Corona, whom the Senate impeachment court ousted in May 2012.
Alvarez asked Sereno to attend the justice committee hearings on the impeachment complaint against her.
"If she will not attend, she will not be able to defend herself," he said.
The justice committee has found sufficient ground to proceed with Sereno's impeachment. It will next determine probable cause to send the complaint to the Senate for trial.
As for Bautista, Alvarez said the Comelec chief could avoid a Senate trial if he tenders an irrevocable resignation.
The House was widely expected to sustain the decision of the committee on justice to dismiss the impeachment case against Bautista until yesterday, when Alvarez called members of his majority coalition to a closed-door caucus.
Traditionally, the Senate and the House, which function through committees, do not reverse a committee decision. A reversal is considered an insult to the committee, and resignation is an option on the part of the committee chairman.
Oriental Mindoro Rep. Reynaldo Umali chairs the committee on justice.
The closed-door caucus decided to muster at least one-third vote of all members – or 98 – to overturn the committee's decision and send the case against Bautista to the Senate impeachment court.
Several congressmen privately told reporters that "intervention from higher up" prompted the House to reverse the Umali panel's dismissal of the complaint against the Comelec chief.