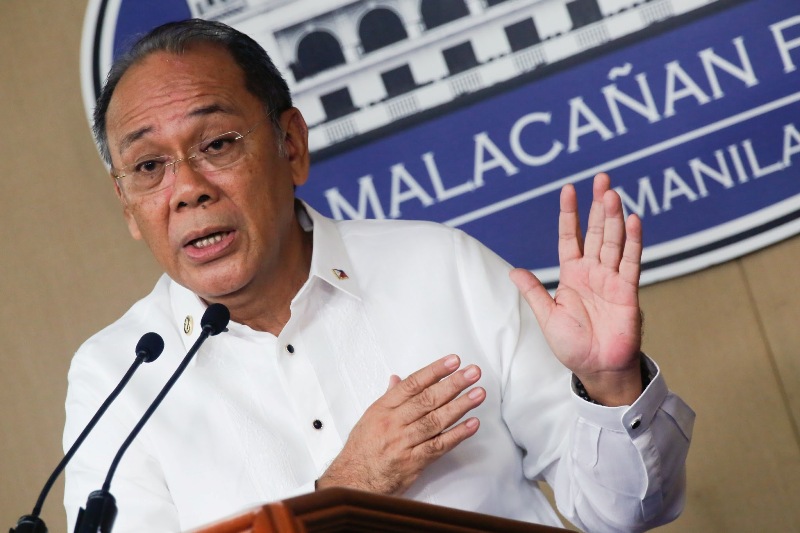 Presidential Spokesperson Ernesto Abella still sees a silver lining in the recent SWS survey showing double-digit drops in the president's trust and satisfaction ratings. PPD/Toto Lozano, File
Despite steep drop in ratings, public still 'loves' Duterte, says Palace
MANILA, Philippines — Despite double-digit drops in President Rodrigo Duterte's trust and satisfaction ratings, Malacañang believes that the public still loves the president.
Presidential spokesperson Ernesto Abella said that trust and satisfaction ratings of chief executives usually suffer dips after more than a year in office, indicating that their so-called "honeymoon period" with the public is already over.
"These things usually happen. This is traditionally happening after a year, a year and a half, and you know, the love is still there," Abella pointed out.
Abella explained that the decrease in satisfaction and trust levels in the president happened because the public had already started measuring their expectations against what they were feeling after his a year or more in office.
"That some people during this particular honeymoon period, their expectations were high, and the actual wait for the implementation of these things may have led to the dip. However, people are still, in general, still satisfied," the Palace spokesman reasoned.
Despite the drop in ratings, the president's public satisfaction still remains "good" at 67 percent while his public trust is "very good" at 73 percent in September, according to Abella.
Abella said that surveys were just snapshots of the public's sentiment on the government's performance, and the latest survey by the Social Weather Stations was conducted just days after the national day of protest declared by Duterte to let the public vent its grievances over the perceived excesses and shortcomings of the administration.
"Some sentiments may have spilled," he quipped.
The presidential spokesman also brushed aside comments of Duterte's critics on his latest trust and satisfaction ratings saying that these did not reflect the sentiment that businessmen who had invested their money in the country were feeling.
Abella said the president is not in a popularity contest although he would listen to the pulse of the public on how his administration was performing.
"He said he will serve a full term, and that he is set—he's really bent on making sure that he addresses the three campaign themes, which is crime, corruption, and illegal drugs," he told reporters in the presidential palace.
Duterte would continue fulfilling his three major campaign promise even if his popularity suffered, according to Abella.
"But he himself is basically concerned—even if it is an unpopular move—he is making sure that the Philippines will have the proper foundation: crime-free, drug-free and corruption-free," he stated.
"That is the whole intention making sure that—whoever, whichever, whichever next administration will follow through will be able to enjoy the fruits of the foundation that he has laid," he added.
Based on latest SWS survey, 67 percent of Filipinos were satisfied with the president while 19 percent were not, for a net rating of 48 percent which the survey firm described as "good."
This net rating was lower than the 66 percent he got in June this year which was classified as "very good."
The largest drops in the president's rating were seen in the Visayas, where his rating fell by 30 percent, in Luzon, where satisfaction dove by 22 points, and Metro Manila where a 19-point drop was recorded.
His rating, however, remained steady in Mindanao, his home region, at 76 percent.
Duterte is the first president to come from Mindanao, an island south of Manila usually wracked by violence, banditry and secessionism.
The president's ratings also dropped among Classes D and E, and for Abella, this might be due to the slow delivery of services they sorely needed.
"But the Ds and Es were easily affected. When there's food in the table, there's health, and there's education. These are the people who are… They are definitely affected by any form of delay in the delivery of services," he said.
The president would stay the course and continue with his agenda, Abella said, noting that Duterte still trusted his advisers and economic managers.