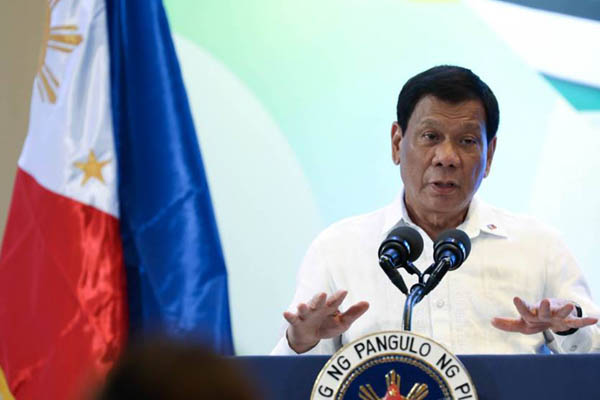 The third quarter 2017 Social Weather Station survey showed that Duterte's net satisfaction rating declined by 18 points. He registered a +48 net satisfaction rating or "good" compared to his +66 rating or "very good" in June 2017. His net trust rating, although at "very good" with +60, went down by 15 points compared to the previous poll. In June, the president had a +75 net trust rating or "excellent." Presidential Communications Operations Office
Critics say honeymoon over; supporters see Duterte bouncing back
(philstar.com) - October 9, 2017 - 2:47am
MANILA, Philippines — Government critics said Monday that the drop in President Rodrigo Duterte's satisfaction and trust ratings indicate that Filipinos are beginning to realize that the chief executive's promise of change is not coming.
The third quarter 2017 Social Weather Station survey showed that Duterte's net satisfaction rating declined by 18 points. He registered a +48 net satisfaction rating or "good" compared to his +66 rating or "very good" in June 2017.
Duterte's net trust rating, although at "very good" with +60, went down by 15 points compared to the previous poll.
In June, the president had a +75 net trust rating or "excellent."
READ: From 'very good' to 'good': Duterte's satisfaction rating drops 18 points
Sen. Antonio Trillanes IV, a vocal critic of Duterte, said Filipinos are "beginning to see the light."
He said Filipinos "are now seeing Duterte for who he really is: a lying, rude, amoral, corrupt and oppressive former mayor who is totally incompetent about governance at the national level."
The senator added: "Worse, his bloody war on drugs has killed thousands of his own people and created a climate of fear across the country."
'Honeymoon is over'
For Tindig Pilipinas, a coalition that has opposition politicians among its members, the decline in Duterte's ratings is an indication that the "honeymoon" is over.
"The significant drop in the President's numbers is expected because while government was focused on killing the poor and balkanizing our democratic institutions, his administration has miserably failed to deliver on his promises—peace in Mindanao, housing solutions to traffic, end to endo, employment, among others," the group said in a statement.
Balkanizing or balkanization refers to the division of a body or or region into smaller, often mutually hostile, groups.
Rep. Emmi de Jesus (Gabriela party-list) said "the people are now seeing through the hype and fake news and are realizing that change is not coming under president Duterte's watch."
De Jesus, a member of the Makabayan bloc that used to be with the administration's supermajority, added: "In fact, PRRD's more than a year in the Palace made the lives of the majority of Filipinos worse than before."
Rep. Teddy Baguilat (Ifugao) said the "truth is catching up with the president."
"More people are starting to see through the propaganda that no matter what it claims, the killings, the lack of action on the economic front are taking their toll on his numbers," he said.
'Duterte can still bounce back'
Rep. Bernadette Herrera-Dy (Bagong Henerasyon party-list ) noted that the recent weeks' development have "not been generally favorable to the president."
The congresswoman said "But his base of support remains solid, in my view. The 16 million who voted for him in May 2016, I believe are still there," she said.
The survey was conducted weeks after the deaths of teenagers Kian Loyd delos Santos, Carl Angelo Arnaiz, and Reynaldo de Guzman and after the lower house voted to give the Commission of Human Rights a budget of P1,000 for 2018 — these developments prompted widespread public outrage.
Sen. Panfilo Lacson said Duterte's drop in ratings was bound to happen, noting that sustainability has always been a problem of leaders.
"The excitement and adulation that a new leader gets after getting his fresh mandate normally dissipate the moment the people start seeing some predictability in his brand of leadership
He added: "I was hoping that somebody like PRRD would give us a not 'more-of-the-same' type of president that our country has been missing all through these years. I think he's still capable of bouncing back and regain the trust and support that he had in the early days of his presidency."
But Chief Legal Counsel Salvador Panelo said the president is unperturbed by surveys because "he is not up for popularity."
However, Sen. Sherwin Gatchalian said the administration should view the survey results as a "constructive challenge."
"Corruption, poverty, and police impunity are three important issues in particular which deserve more attention from the executive branch," he said.