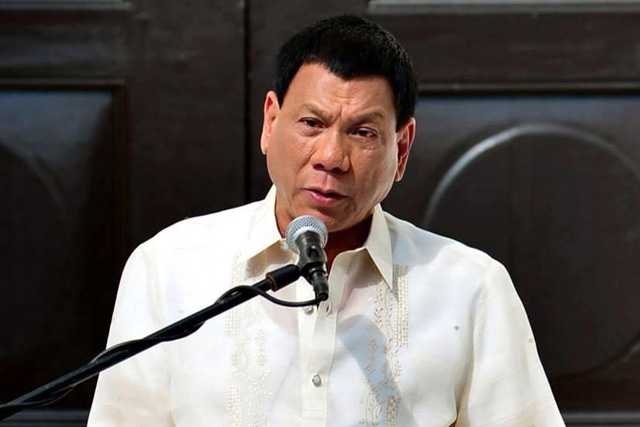 "I even fired today, I signed, firing two people from Malacañang for using their influence," President Rodrigo Duterte said in an interview—a video clip of which was uploaded to Presidential Communications Assistant Secretary Mocha Uson's Facebook page on Friday morning. Philstar.com, file
Duterte: I fired two people from Malacañang for 'using influence'
(philstar.com) - October 6, 2017 - 2:59am
MANILA, Philippines — Two more heads have rolled at Malacañang for "using their influence," President Rodrigo Duterte said as he reiterated his promise to weed out corruption in the government.
"I even fired today, I signed, firing two people from Malacañang for using their influence," Duterte said in an interview—a video clip of which was uploaded to Presidential Communications Assistant Secretary Mocha Uson's Facebook page on Friday morning.
"Empleyado diyan tapos kung anu-anong pinagsasabi sa labas, na malakas. I hate that," he added.
"I have fired so many. I just haven't announced in fairness to the family. Some of them have children who are doctors, lawyers. They might be shamed," Duterte also said in a mix of Filipino and English.
Duterte first announced the termination of the two Palace officials in his speech at the Agrilink, Food Link, Aqualink 2017 at the World Trade Center on Thursday night, but he did not elaborate.
Palace officials who are close to Duterte have yet to respond to requests for details on the president's pronouncement as of this reporting.
Duterte has in the past fired appointees over just a hint of corruption. He earlier sacked former Interior Secretary Ismael Sueno for pushing for the allegedly anomalous fire truck contract that government eventually allowed to push through.
READ: 'Anomalous' DILG firetruck deal raised vs Sueno still on after all
He also axed Undersecretary Maia Chiara Halmen Valdez over rice importation issues early this year.
"I was appalled that an undersecretary, they reviewed the decision of (NFA administrator) Jason Aquino denying importation… and it was appealed in Malacañan. Filed in the Office of the President," he said in April.
The government eventually opted for a "government-to-private" rice importation scheme instead of the government-to-government method that Aquino advocated.
Duterte also dismissed Bureau of Immigration deputy commissioners Al Argosino and Michael Robles after they were tagged in a multimillion-peso bribe scandal involving a Chinese casino operator. They face plunder complaints at the Office of the Ombudsman.
Recently, Duterte said he asked former Information and Communications Technology Secretary Rodolfo Salalima to resign, saying he had received complaints that the former official was partial to one company.