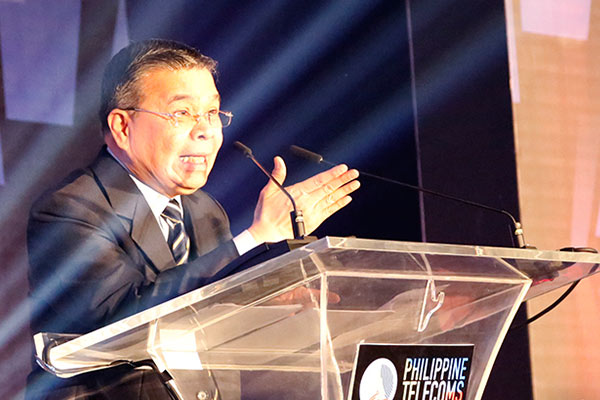 In this March 9, 2017 photo, DICT Secretary Rodolfo Salalima speaks before telecommunications industry players, regulators, and consumers during the first Philippine Telecommunications Summit. i.gov.ph
DICT chief Rodolfo Salalima resigns
MANILA, Philippines — Information and Communications Technology Secretary Rodolfo Salalima has resigned from the Cabinet because of personal and work-related reasons, Malacañang announced Thursday.
Presidential spokesman Ernesto Abella said Salalima has submitted his resignation letter but could not say if President Rodrigo Duterte has accepted it.
"Secretary Rodolfo A. Salalima of the DICT (Department of Information and Communications Technology) has tendered his letter of resignation to the president, citing personal and work-related reasons," Abella said in a statement.
"As of this date, there is no official word from the Office of the Executive Secretary as to whether the president has accepted Secretary Salalima's offer to resign," he added.
Speaking to reporters in Marawi, Duterte confirmed that he has accepted the resignation letter of Salalima. He said Salalima quit out of delicadeza because the Cabinet member used to be connected with a telecommunication firm.
Duterte said he would still talk to Salalima about his resignation but revealed that he is now looking for a successor.
Last month, The STAR reported that two Cabinet members are on the way out because of "conflict of interest."
Salima is a former classmate of Duterte at the San Beda College of Law. He served as a chief counsel of Innove Communications, Inc. and chief legal counsel and senior advisor to Globe Telecoms.
The DICT chief was also a member of the Executive Committee of the National ICT Advisory Council, a former president of the Philippine Chamber of Telecommunications Operators, Inc. and a former board director of the Telecoms Infrastructure Corporation of the Philippines.
Salalima is the seventh Cabinet member to leave the Duterte administration.
The appointments of former Foreign Affairs Secretary Perfecto Yasay, Jr., former Environment Secretary Gina Lopez, former Social Welfare Secretary Judy Taguiwalo and former Agrarian Reform Secretary Rafael Mariano were rejected by the Commission on Appointments.
Duterte fired former Interior and Local Government Secretary Ismael Sueno after he was linked to the allegedly anomalous purchase of fire trucks.
Vice President Leni Robredo resigned from the Cabinet because of "irreconcilable differences" with the president.