Trillanes: Supposed affair with ex-AMLC exec another made-up story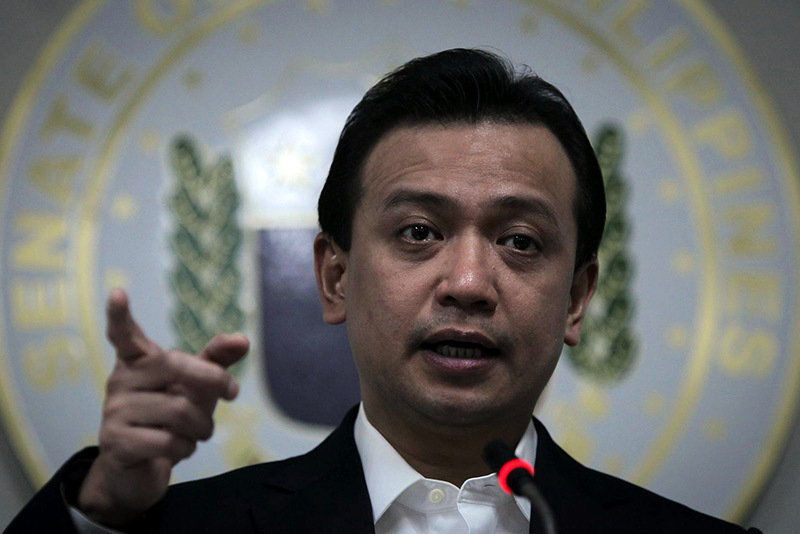 MANILA, Philippines — Sen. Antonio Trillanes IV has denied romantic links with former Anti-Money Laundering Council executive director Julia Bacay-Abad as claimed by President Rodrigo Duterte.
Duterte on Thursday accused Trillanes of having an affair with Abad, who, according to the president, gave the senator his bank records.
"She is the mistress of Trillanes," Duterte said on the same night that he said Trillanes only has one testicle. The president said that Trillanes, a former Navy officer, should prove his courage through a gun duel.
READ: 'Trillanes half a man, womanizer'
Trillanes denied the president's latest accusation, saying Duterte is dodging the real issue of his alleged hidden wealth.
"I categorically deny this latest made-up story of Duterte. It is saddening that an innocent person is being involved in this issue," Trillanes said in a mix of English and Filipino.
The senator described Abad as a "decent and a family-oriented person."
Abad resigned as AMLC executive director last January after Duterte repeatedly attacked the agency for alleged corruption.
"You know, I'm going to charge all of you there, criminally. I'll count one to three, and if you don't resign, I will treat you as drug addict," the president said last December.
READ: AMLC execs told: Resign or be treated like addicts
Duterte claimed Trillanes gave the purported bank details to Deputy Ombudsman Rodolfo Elman and Overall Deputy Ombudsman Melchor Carandang, who were tasked to probe the bank deposits of Duterte and his family.
"You cannot use it as evidence in court because you and Abad stole that," the president, who has admitted to making up account numbers of Trillanes' supposed offshore accounts, said.
RELATED: Belying Duterte's claim, DBS Bank says accounts can't be closed online
Trillanes has repeatedly claimed Duterte had bank transactions amounting to P2.2 billion from September 2006 to December 2015.