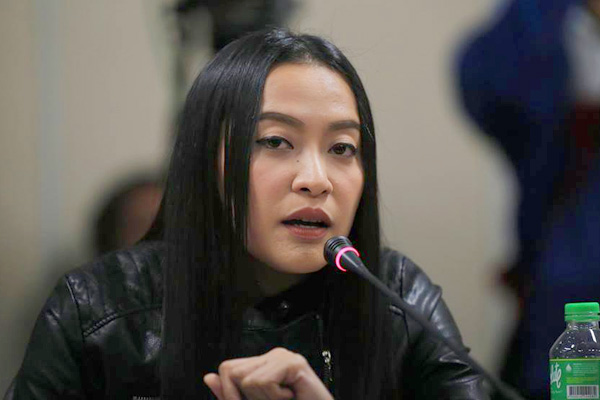 Pro-administration bloggers who have become part of government were taken to task by senators yesterday for continuing with their online activities without thinking of responsibility and accountability, including spreading "fake news" or information that turned out to be false or misleading. Senate PRIB/Joseph Vidal, File
Senators berate Mocha, other pro-Duterte bloggers
(The Philippine Star) - October 4, 2017 - 4:00pm
MANILA, Philippines — Is the government itself behind fake news?
Pro-administration bloggers who have become part of government were taken to task by senators yesterday for continuing with their online activities without thinking of responsibility and accountability, including spreading
"fake news" or information that turned out to be false or misleading.
Presidential Communications Operations Office Assistant Secretary Mocha Uson and Department of Foreign Affairs consultant Rey Joseph Nieto appeared at the Senate hearing on fake news that was driven by seven senators' gripe against a blog that criticized them for not signing a resolution condemning the killings amid the war on drugs, particularly of young people.
In this case, the seven senators eyed members of the political opposition as those who could be behind the blog or fake news against the administration and its allies, as they stressed they were not shown the resolution denouncing the killings.
But after several hours of hearing, the senators were at a loss as to how the problem could be curbed, given its magnitude and effects without imposing prior censorship.
Even President Duterte cautioned the Senate on possible legislation against fake news as it might be detrimental to freedom of expression protected by the Constitution.
"Fake news has become so pervasive through the use of bots and trolls and these fake accounts are able to sway to public opinion, shape civic discourse, affect social interaction and influence government," Sen. Grace Poe, chair of the Senate committee on public information and mass media, said.
Poe said people in government must be very careful about the information they were releasing and Sen. Nancy Binay had to ask Uson to make up her mind on whether she would be a blogger or a public official.
"Since we're all government officials, she cannot use the excuse of doing things in her capacity as a private individual. At this point, you cannot separate your being a blogger from being an assistant secretary," Binay said, adding: "It's high time for you to decide if you want to be an (assistant secretary) or if you want to be a blogger."
Sen. Bam Aquino also questioned Uson about fairness as the blogger-turned-Palace official would not get their side even when writing or posting critical or fake information about them.
Uson said blogs were opinion-based and they did not have the obligation to get the other side, being non-journalists.
Uson and Nieto also argued they are not prohibited from maintaining their respective blogs since this is an exercise of their right to free speech and expression.
But Binay reminded Uson that she is bound by Republic Act 6713 or the Code of Conduct and Ethical Standards for Public Officials and Employees and cannot use as an excuse that she was acting in her private capacity in writing her blog entries.
Sen. Francis Pangilinan said the same in addressing Nieto, who argued that as a consultant in the DFA, he was not covered by the same rules as the other officials and employees in government.
He said Nieto should also choose whether he wants to remain as consultant in the DFA or a blogger, but it cannot be both.
Nieto also said in the course of the hearing that the "DFA needs me more than I need them" because of his online influence, noting that his salary as DFA consultant was a mere pittance at P12,000 a month.
He was also censured by Pangilinan and Senators Risa Hontiveros and Antonio Trillanes IV for disrespecting the office of detained Sen. Leila de Lima.
DFA spokesman Robespierre Bolivar refused to comment on Nieto's statements that he said were the blogger's "personal opinion."
What to do?
Poe said there must be a good balance in finding a solution to the problem.
"We do not want censorship but we want accountability. So now I need to be able to collate and analyze what has been discussed in this hearing before I start spewing suggestions on legislation. So if you will forgive me I cannot say exactly yet what legislation, this is our first hearing on the matter," Poe said, adding a "culture of lying" is being developed by the spread of fake news.
But Poe said one of the resource persons – BusinessWorld and Interaksyon editor in chief Roby Alampay – was right in saying that "it's very untenable" to balance personal and official statements or positions.
Asked about the bloggers being government mouthpieces, Poe said: "…you can promote the policies of the government for as long as it's based on facts. We need cheerleaders in government but (they) should only stick to what is the truth and you should not embellish it."
Binay said it is a "sad reality" that controversial blogs, even with unverified content, are more patronized by people. Also, she said it would be difficult to police bloggers hiding behind anonymity.
"How do you go after them? Maybe it will be good to see if there is a technology that can capture that," Binay said, adding there were even rumors that followers could be bought at P1 each.
Who is the fake news king?
In a press conference at Malacañang after a meeting with the family of a University of Santo Tomas student hazing victim, Horacio Castillo III, Duterte said he also watched the hearing and was pessimistic about having a law to stop the spread of fake news.
"I am sure they cannot pass a law against fake news because if you write an opinion… (You cannot) draft a law to set standards – that will kill freedom of expression," he said.
There are laws against libel and slander, Duterte added, apparently referring to possible legal recourse which can be taken by victims of fake news.
"If you want to pass a law, (you can do it by) increasing the penalty slander, libel, civil case, but to prescribe a set of rules on what is proper or not…wala na (there could be none). Hindi lulusot 'yun (That will not pass)," Duterte added.
He then lambasted Trillanes, his political opponent who also asked questions during the Senate hearing and faced Uson, who blogged about the senator's purported offshore accounts.
"I will lecture for your education, Trillanes. You cannot do that… It (fake news) might tend to deceive. Actually if it is intended to deceive, you cannot do anything. You have the equal right to deceive the deceiver… you cannot pass a law for decorum, proper procedure," Duterte said.
Duterte ridiculed Trillanes for raising a howl about fake news when he himself is involved in disinformation—a rebut of the Chief Executive on the senator's accusations that he amassed illegal wealth and had maintained about P200 million in bank deposits.
"Ito naman buang (who says) 'do not (do) fake news'. Siya ang tagatapon ng basura…," Duterte said.
But Trillanes and Uson shared a light moment during the hearing. Uson said she found Trillanes "handsome" seeing him in person for the first time and that it was not "fake news."
Uson was also mocked online for claiming she was also a fake news victim and that she would like to invoke her right against "self-discrimination" instead of self-incrimination when grilled by the senators on her blog entries.
The two later posed for a photo together as Trillanes said earlier that he attended the hearing because Uson was looking for him.
A number of bills have been filed related to the issue of fake news but with regard to the "silentnomoreph" blog entry on Sept. 26 that attacked Senate Majority Leader Vicente Sotto III, Senators Manny Pacquiao, Cynthia Villar, Juan Miguel Zubiri, Richard Gordon, Gregorio Honasan and Senate President Aquilino Pimentel III , calling them "Malacañang dogs in the Senate" because of their supposed refusal to sign the resolution againt extrajudicial killings, Nieto tagged a certain Edward Angelo Dayao as its administrator along with 20 other websites.
Dayao, also known as Cocoy, was reportedly employed by the previous administration and Liberal Party senators.
Poe pointed out that Dayao was actually invited to attend the hearing but the committee did not receive any response from him.
She said that a subpoena would be issued for Dayao to compel him to attend the next hearing of the committee.
While Dayao was not around, three former officials of the Aquino administration's communications team – Edwin Lacierda, Abigail Valte and Manuel Quezon III – were present.
Villar, quoting the companion of Nieto and co-blogger Lopez , said that the people behind silentnomoreph are Dayao, Melissa Limcaoco, Lacierda, Valte and singer and political activist Leah Navarro.
Valte categorically denied being part of any blog and contributing to a blog but admitted to knowing Dayao back in 2009. Quezon said he never hired Dayao to his team at Malacañang.
Lacierda, on the other hand, while denying involvement in the article on the silentnomoreph blog, could neither confirm nor deny that he is a member of a group tied to the blog since he is a member of numerous groups on social media.
Lopez, who was present at the hearing, said that he just received the information from a source and that he never verified this.