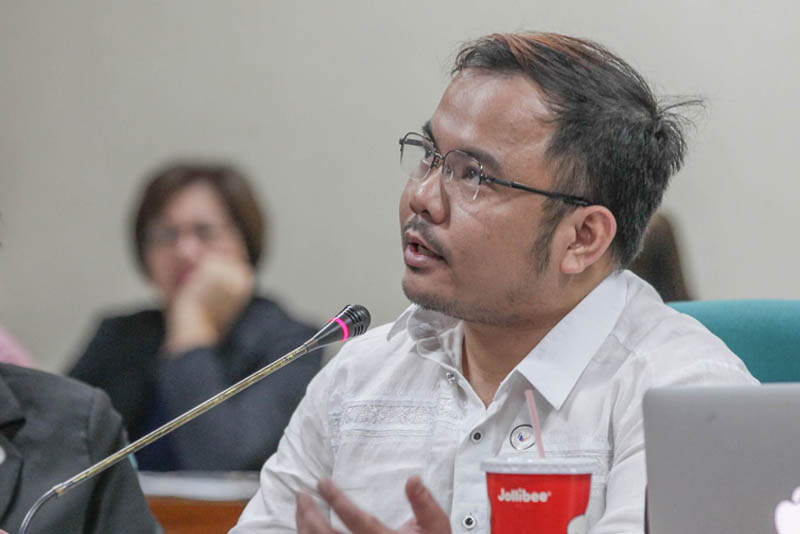 Photojournalist Jes Aznar said Thinking Pinoy publisher Rey Joseph Nieto's use of the Marawi battle footage issue in the Senate hearing on the proliferation of fake news was "foul and vile." STAR/Mong Pintolo
Blogger slammed for false claims vs photojournalist
(philstar.com) - October 4, 2017 - 12:47pm
MANILA, Philippines — A blogger who falsely accused a celebrated photojournalist of compromising the safety of troops in Marawi was criticized for his statements at a Senate hearing on Wednesday.
Rey Joseph Nieto, behind the blog Thinking Pinoy, defended his claims against lensman Jes Aznar, dismissing them as a mere reminder to the journalist. Thinking Pinoy is a relatively popular Facebook page where Nieto regularly lashes out at critics of President Rodrigo Duterte.
In a statement, photojournalist Jes Aznar said Nieto's use of the Marawi battle footage issue in the Senate hearing on the proliferation of fake news was "foul and vile."
During the Senate probe Wednesday, Nieto mentioned the issue of Aznar, whom he alleged of endangering soldiers for posting "real-time" video of military operations.
But Aznar stressed that if Nieto's accusations of him endangering the troops were true, why is the Armed Forces of the Philippines still allowing him to cover the Marawi siege?
"While that the agencies involved, namely the AFP and the PNP already released a statement saying that Nieto's claims were not true, his use of this issue at the Senate hearing is proof enough that he is spreading fake news," Aznar said.
Veteran journalist Ellen Tordesillas of VERA Files called Nieto's accusations against Aznar "very serious." Another longtime media practitioner, Inday Espina-Varona, also condemned the blogger for peddling a "malicious lie.'
"This is a lie—a dangerous lie with life-threatening implications to a colleague—that Nieto has trotted out before, sending an army of netizens to call out for the blood of photojournalist Jes Aznar," Varona said.
'No place for barefaced liars'
On June 16, at the height of the Marawi crisis, Nieto criticized Aznar for allegedly revealing sniper positions of Philippine soldiers in a video posted on Instagram.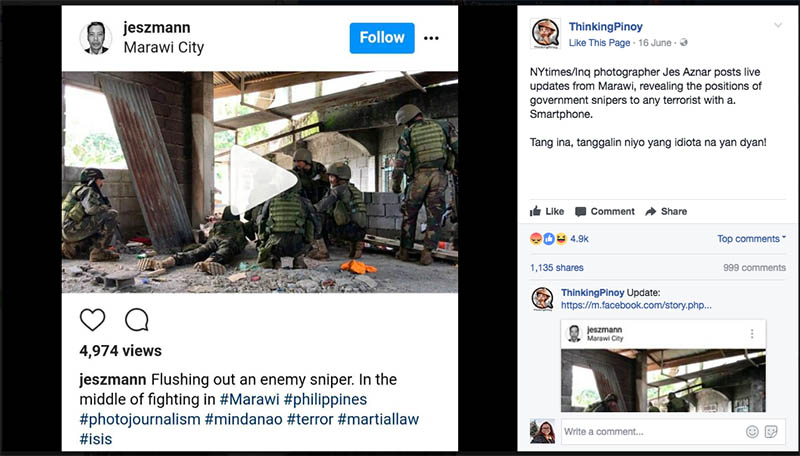 A June 2017 post of Thinking Pinoy blogger RJ Nieto accusing Jes Aznar of posting a "live" video of troops in Marawi City in the thick of battle. The post led to online threats and harassment against Aznar, a photojournalist.
Thinking Pinoy claimed that the video "compromised the safety and tactical advantage of AFP snipers." He further alleged that Aznar disregarded the military's request for people to refrain from posting compromising information.
The post incited harassment of the photojournalist covering the battle.
The National Union of Journalists of the Philippines on Wednesday similarly called out Nieto for resurrecting his "utterly discredited accusation against Aznar."
The group also urged the Senate mass media panel led by Sen. Grace Poe to cite the blogger for contempt.
"That Nieto did all this under oath should have earned him a perjury charge or a contempt citation at the very least. That he did so as a consultant of the DFA, paid with the people's money, makes it a hundred times worse," NUJP said.
The group added: "RJ Nieto dares demand accountability? We say, let him be accountable himself. There is no place in government—or in the field of professional communications, for that matter—for barefaced liars."
In July, NUJP also slammed Nieto for putting Aznar's life in jeopardy "on unfounded reasons."
READ: NUJP condemns blogger for endangering photojournalist covering Marawi